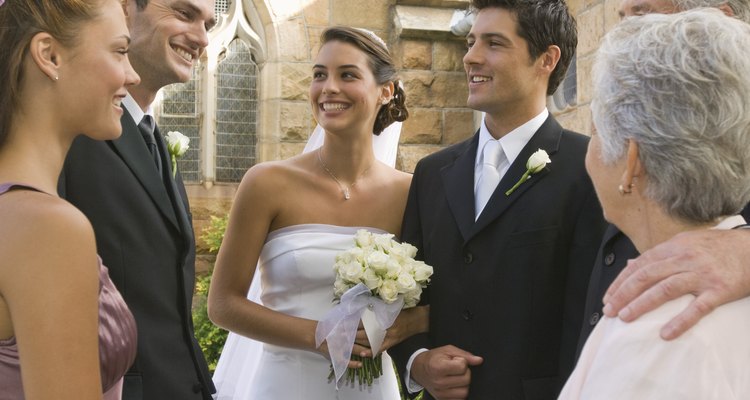 Jupiterimages/Pixland/Getty Images
Some brides choose to have elaborate and expensive sit down dinners for their receptions while others opt for a more casual buffet. Still other brides may choose to have an open house reception where guests are allowed to come and go as they please with no designated schedule. This approach to a wedding reception gives the bridal couple more of an opportunity to visit with their well-wishers than a traditional reception.
Venue
An open house wedding reception can be hosted at a variety of venues. Consider having an open house at the couple's new home. This type of reception gives the bridal couple the opportunity to show their new house to friends and family who have not yet gotten the chance to see their new place. Other venues include a church fellowship hall, the wedding couple's favorite restaurant or a reception hall.
Decorations
A wedding reception open house should include decorations to create a festive look. The reception decorations can be similar to those found in a more traditional wedding reception. Use silk or fresh flowers in the colors of the wedding. Put the flowers in pretty vases to decorate the reception area. Use colored or white table linen and beautiful dishes. Display pictures of the wedding and the bridal couple, including the engagement picture of the couple on a guest book table.
Food
Serve finger foods and other easily eaten foods at an open house reception. Some food ideas include a fruit and a vegetable tray with a couple of dip choices. Also serve a cheese and cracker tray. Add cold cut meat to the tray. Display a small wedding cake. Have a sheet cake to cut into and serve to guests. Don't cut into the wedding cake or the guests who come towards the end of the reception will not be able to enjoy seeing the cake in its entirety. Save the wedding cake for a private celebration between the bride and groom after all guests have gone or for the end of the wedding reception.
Other Wedding Reception Open House Ideas
An open house wedding reception does not have to be held on the same day or even in the same city as the wedding ceremony. A couple can elope or get married in a private ceremony and then invite guests to an open house reception. A bridal couple can wear wedding attire to the reception or can wear nice, dress casual attire. The couple should have a designated photographer or should have a camera available to take pictures of guests as they enter.
Writer Bio
Stephanie Kelley has been writing articles and columns online for SGM Radio and SGN Scoops Digital since 2005. She has a Bachelor of Arts in art history/anthropology from Western Washington University in Bellingham, Wash. and writes on a number of topics including art, frugal living, children and travel.
Photo Credits
Jupiterimages/Pixland/Getty Images