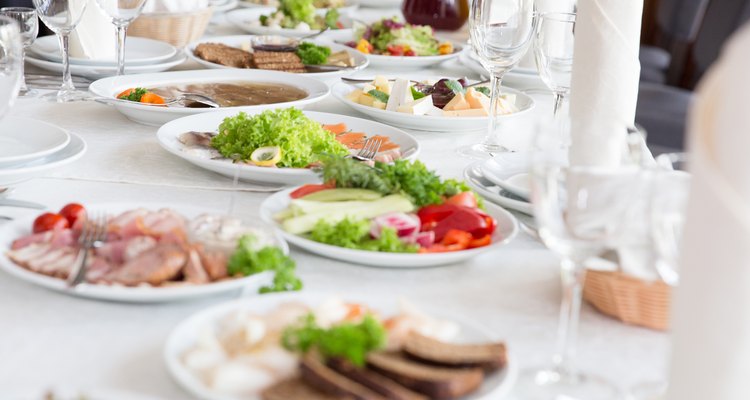 Stick to your budget by preparing your own food for your wedding reception. Enlist the help of family and friends to help you cook and serve food before and during the reception. Check with the reception facility first to determine what kind of kitchen and storage facilities are available, so you don't plan to cook a large menu when the facility doesn't have a stove. There are plenty of wedding food menu ideas out there for couples on a budget, however limited a kitchen your facility should boast.
Barbecue is Easy
Jeanne Studio/Demand Media
Barbecue menus work especially well for outdoor receptions. Start smoking the pork, beef or chicken the night before, then cut it up the morning of the reception. You can hand around already-filled plates - great for portion and cost control - or set up a buffet line that includes the meat, buns, barbecue sauce, sliced onions and condiments for the sandwiches. Make simple sides such as potato salad, coleslaw, pasta salad and potato chips. Add a couple of lettuce choices along with some salad dressings as well. Offer simple drink choices, such as tea and water.
Use a Holiday Theme
Jeanne Studio/Demand Media
If your wedding is near a major holiday, incorporate that into the menu. Cook turkeys (about 1/2 lb. per guest), cranberry sauce (fresh or canned), sweet potatoes, green beans (or green-bean casserole) and dressing for Thanksgiving. For Christmas, consider a ham station with bread choices and condiments along with mashed potatoes, gelatin salad, fruit salad and fudge. Keep your New Year's reception festive and lucky by incorporating collard greens with bacon, black-eyed peas and cornbread into your menu.
Buffet Options
Buffets offer several of the most practical options for frugal self-catering, because buffet food lends itself to both bulk preparation and advance preparation. Also, you won't have to hire and pay for service staff. A few common options include: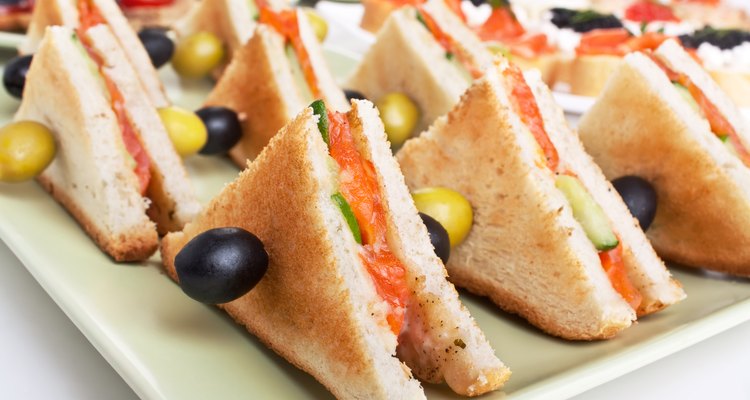 Instead of taking the time to make food for your guests, create a sandwich buffet and let them help themselves. Include several bread and meat choices, then add a couple of cheeses to pick from, along with standard sandwich condiments. Create a fruit and vegetable platter, and offer chips and dip. Include cookies or brownies as a sweet treat while guests wait for the wedding cake. Offer soft drinks and water.
Jeanne Studio/Demand Media
Cook two or three types of pasta, such as spiral and spaghetti -- assume about 1 lb. of pasta per 12 guests. Present them in separate bowls. Cook the same number of sauces, such as a marinara, traditional spaghetti sauce with meat and an Alfredo sauce. Add toasted garlic bread and a bowl of salad. For more interesting fare, include separate add-ons such as sliced black olives, sauteed mushrooms or artichoke hearts.
Set out plenty of corn tortillas and a smaller quantity of flour tortillas in warmers or steam table pans, and then arrange your choice of toppings in a series of bowls running down the table. Alternatively you could offer up a stack of crisp shells, but you'll need to buy extra because they break easily. Allow 2 to 4 tortillas per person, plus extra for accidents, and add suitable sides such as tortilla chips, guacamole, rice or refried beans to make it a full meal.
When you're feeding a large group on a budget, baked potatoes can be your best friend. You can prepare them easily in bulk, in a regular oven, a countertop roaster, a large slow cooker or any combination of the three. Set up a buffet table with potatoes warmers, and then toppings such as sour cream, shredded cheese, bacon bits and sliced green onions running the length of the table.
References
Writer Bio
Based outside Atlanta, Ga., Shala Munroe has been writing and copy editing since 1995. Beginning her career at newspapers such as the "Marietta Daily Journal" and the "Atlanta Business Chronicle," she most recently worked in communications and management for several nonprofit organizations before purchasing a flower shop in 2006. She earned a BA in communications from Jacksonville State University.