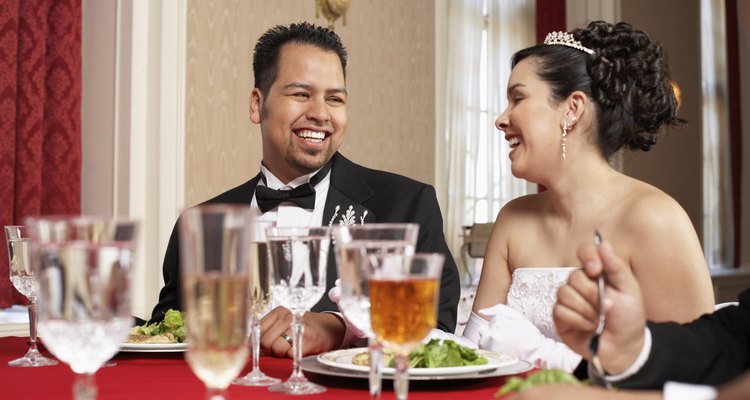 Creatas/Creatas/Getty Images
Hunger is the last thing that should be on the minds of wedding guests as they celebrate the union of a happy couple, which is why food is such an important part of a wedding reception. Before you decide on a menu, you must determine how much food you want to serve and how you want to serve it. Time, money and the level of formality should factor into these decisions.
Table Service
While perhaps the most expensive dinner service option, table service is also the most formal. Guests remain seated at the table and a full wait staff serves the plated meals. It's unlikely that every guest at a wedding likes the same foods, so it's helpful to provide guests with two or three options, such as roast beef, fish or vegetarian, that they can select when they RSVP to the wedding. If your budget allows, you can provide several courses for the meal, including appetizers, soup, salad and entree. The biggest challenge is keeping the food hot between plating the food and serving it to the tables, so this might not be a good option for a large wedding.
Family Style
A more intimate serving style provides each table with serving bowls and plates to be passed around among guests at the table, just as you would do at a family dinner. This option works well with small, intimate weddings, or for a self-catered dinner. For example, you might provide each table with a tray of lasagna, a large bowl of salad and a basket of bread. Table size is often limited, so keep the number of food items to a minimum so guests have room for their plates.
Buffet
Buffets are a good way to serve hot food at a large wedding reception because the food stays warm in chafing dishes until the guests serve themselves. This option requires guests to wait until their table is called to the buffet line, usually beginning with the wedding party and immediate family tables. While this sometimes means the wedding party finishes eating before guests at the last tables get their food, it allows the bride and groom time to socialize and thank guests for attending. For a large wedding, consider multiple buffet lines or set up a separate serving station for each type of meat, such as a carving station for roast beef, ham and turkey, while providing all the side dishes at each station.
Hors D'oeuvres
Guests and the wedding party usually expect a full dinner when the wedding takes up the entire late afternoon and evening, but you can reduce costs and serve only hors d'oeuvres if you have a late evening and nighttime wedding. Avoid messy foods and stick with bite-sized options that guests can easily grab while socializing. If you have a large budget, hire waiters to pass the hors d'oeuvres on trays while guests mingle. For a lower budget option, set up a table with items such as shrimp cocktail, cheese trays, bacon-wrapped asparagus, stuffed mushrooms, mini quiches and crostini, along with small plates and cocktail napkins. These small bites satisfy light hunger and are especially important at weddings where alcohol is served.
References
Writer Bio
A former cake decorator and competitive horticulturist, Amelia Allonsy is most at home in the kitchen or with her hands in the dirt. She received her Bachelor's degree from West Virginia University. Her work has been published in the San Francisco Chronicle and on other websites.
Photo Credits
Creatas/Creatas/Getty Images