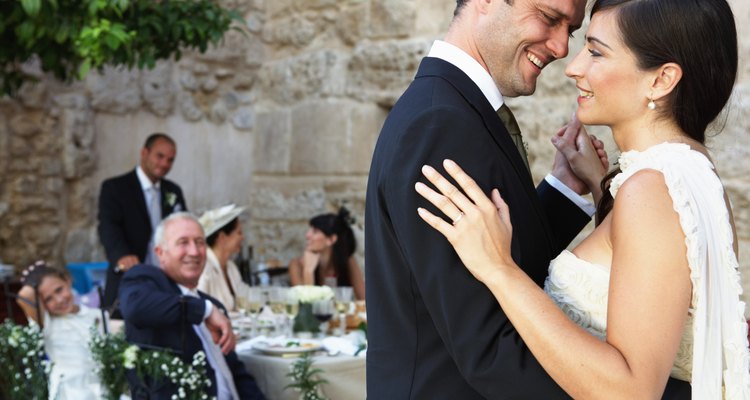 Maria Teijeiro/Photodisc/Getty Images
If you are planning a small wedding with less than 40 people, you have a great opportunity to have a unique and personal wedding experience. Because of the intimate size of the wedding, you can be creative and enjoy a great deal of flexibility in the planning process. From venues to themes to atmosphere, an intimate wedding has the opportunity be more memorable, heartfelt and even more elegant than a typical large-scale wedding.
Venues
Venue options for a small wedding with less than 40 people are numerous. Banish the thought of using a typical large banquet room and instead investigate smaller, more personal venues. Some great ideas for an intimate wedding are a winery, church or college chapel, boat or yacht, a museum or an art gallery. You can also rent a cabin or old landmark home for your ceremony and reception. You should also consider having the wedding in your home or in the home of a close family member.
Family Atmosphere
When having a small wedding with less than 40 guests, your can have an intimate family atmosphere for your reception. Plan ahead to acquire home-cooked meals from your relatives' best culinary creations. The wedding couple, or the parents of the bride and groom, can even cook the meal themselves. Instead of the typical and sometimes awkward wind down of a wedding reception, you can finish with a bonfire in the backyard, complete with a fireworks display.
Lavish Reception
For a high end, yet intimate wedding reception with less than 40 people, have a fully catered meal with gourmet foods and lots of champagne. This idea is best suited to a reception on a yacht or at a winery or other formal venues.
References
Writer Bio
Andrea Hermitt is an artist and writer who loves to research and write about new things. She's been a content writer since 2000, contributing to Families.com, the blog Notes From A Homeschooling Mom and other online publications. Hermitt has a Bachelor of Arts in fine art and English from the State University of New York at Albany.
Photo Credits
Maria Teijeiro/Photodisc/Getty Images