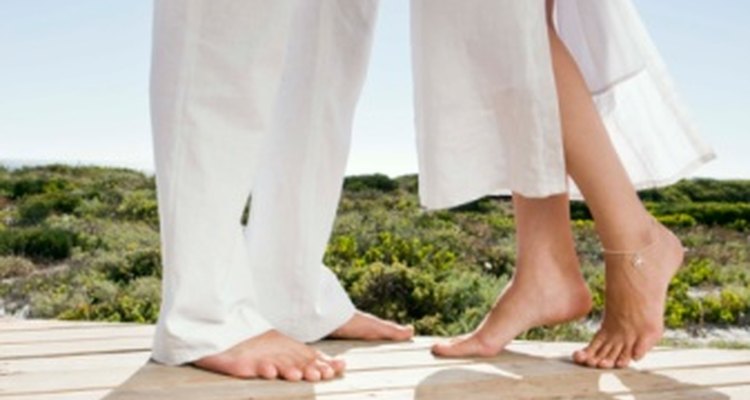 Jupiterimages/Polka Dot/Getty Images
Weddings are expensive and stressful for new brides. The average American wedding today costs about $29,000 according to the Wedding Report, a market research publication. Skip the wedding planner and save the cash by choosing to simplify your wedding. Getting married cheaply can be achieved by using a free venue and preparing the refreshments and decorations yourself or eloping privately. Economic circumstances have made elopements popular among young couples. Some locations in the United States and abroad have cashed in on the romantic idea of eloping by offering easy ways to get married right away.
Courthouse Wedding
courthouse weddings are simple and direct. Booking an appointment at your local courthouse is one of the cheapest ways to get married. A judge will officiate the ceremony so that you can exchange vows quickly and painlessly in front of few witnesses. Prepare in advance by getting a blood test and applying for a marriage license (these requirements vary by state). While the courthouse wedding may be not be as glamorous as a traditional wedding, is it economical and a good choice for those who want to get married quickly and quietly.
Backyard Wedding
The backyard wedding works well during spring and summer months. If you have a garden wedding at your own home or the home of a friend or family member you will not have to pay for the venue. You can keep your wedding expenses low by serving a simple dessert such as cheesecake or ice cream sundaes; serve something that you can buy in bulk instead of paying a caterer to prepare the refreshments. The only downfall to a backyard wedding is that weather complications require you to have a backup plan.
Skip Vegas, Think Reno
Eloping to Reno, Nevada, surrounded by beautiful mountain ranges and vast lakes, is a cheap way to "tie the knot." If you are looking for an intimate place to marry, then Reno is a smart choice. In Nevada you are not required to get a blood test, and the courthouse is open until midnight. Elopements are such a booming business that Reno has made them part of its tourist attractions. It is easy and painless for young couples to get married quickly even if funds are low. With Lake Tahoe nearby you have many choices for after-wedding activities such as hiking, boating, rest and relaxation.
Elope to New York City
Central Park is a fairly inexpensive option for a small wedding ceremony. One of the most popular locations in Central Park is the Conservatory Gardens because of the breathtaking landscape filled with thousands of colorful flowers and trees. Some restrictions apply, such as a limit of 100 guests and rules prohibiting the throwing of rice, bird seed, flowers or confetti during or after the ceremony. A permit from the NYC Parks and Recreation office is required for a Central Park wedding ceremony; the cost is $400 with an additional $100 fee for a photography permit.
References
Writer Bio
Milenna Russell has a Bachelor's degree in mass communications from the University of Utah. She has been a freelance writer since 2004 and writes for several web-content sites including Lifetips, Ehow and Associated Content.
Photo Credits
Jupiterimages/Polka Dot/Getty Images