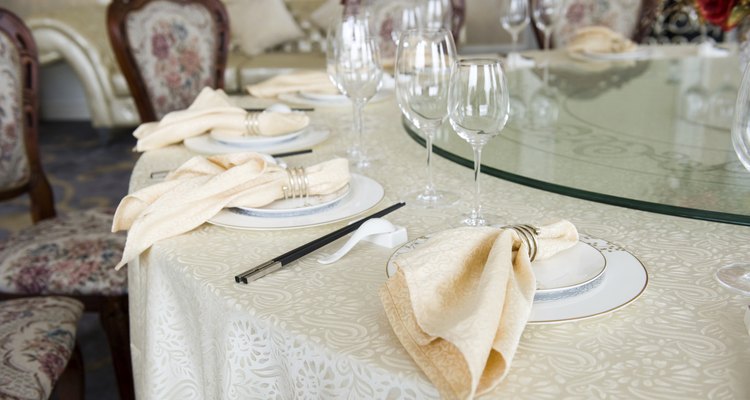 hxdbzxy/iStock/Getty Images
A home wedding provides an intimate, personal way of celebrating your nuptials. However, because most homes are not equipped to host dozens of guests or the facets of a traditional reception, this type of reception poses certain challenges. Take a good look at the layout of your home and contact wedding vendors experienced in home receptions before you start planning your big day.
Preparing Your Home
A small wedding is most conducive for hosting at home, as one of the biggest obstacles to overcome for a home wedding reception is finding space to fit all your guests. This could require removing or rearranging furniture to maximize space. If you plan to have the wedding outside, have a back-up plan for inclement weather. This could include moving to a friend or family member's house or church hall if your living space can't accommodate the guests, or having a tent erected in the backyard. In the week leading up to the wedding, hire professionals to clean your home and tend to the lawn to ensure it looks its best for the big day.
Party Rentals
Some couples choose an at-home wedding because it seems to be the budget-friendly choice. This often isn't the case, though, as you have to work with a party supply store to rent tables, chairs, dinnerware, napkins, table linens, place settings, barware and, in some cases, portable bathrooms and a tent. You might also need a generator, as your home circuitry might not be able to handle power for a catering kitchen or lighting for a tent. The DJ must bring in his own sound system, and you might need extra lighting if the wedding is taking place outdoors. Start researching rental options at least six months in advance.
Food, Drink and Decorations
Contact your caterer early and ask him to stop by to survey your kitchen well in advance. If you have a well-equipped, large kitchen, his staff may be able to prep there; otherwise, he might need to bring a traveling kitchen. Some couples might choose to prep the food themselves or ask family members to contribute. In that case, do as much as possible in advance and utilize your freezer to store hors d'oeuvres until the day before the wedding. When decorating your home for the wedding, take a look at what beautiful elements your home already has to offer -- whether it's a gorgeous maple tree in the backyard that's just right for hanging Chinese lanterns or a bay window that can serve as a backdrop for a wedding cake.
Check Local Laws and Insurance
From parking permits to liquor licenses to noise restrictions, a home wedding is rife with potential legal issues. Research local ordinances to determine how late you can have loud music playing, if you need a permit to park multiple cars along your street, and if you can buy a one-night liquor license for the bar. Additionally, check with your homeowner's insurance to determine what it covers, and consider purchasing a supplemental policy to cover anything that could go wrong. Verify that the wedding vendors have their own insurance policies, too.
References
Writer Bio
Kelsey Casselbury is a freelance writer and editor based in central Maryland. Not only a freelance writer, editor, and designer, she is also a mom of a preschooler, a volunteer for two nonprofit organizations, and an avid reader, cook, and piano player. She has a bachelor's degree in journalism from The Pennsylvania State University.
Photo Credits
hxdbzxy/iStock/Getty Images