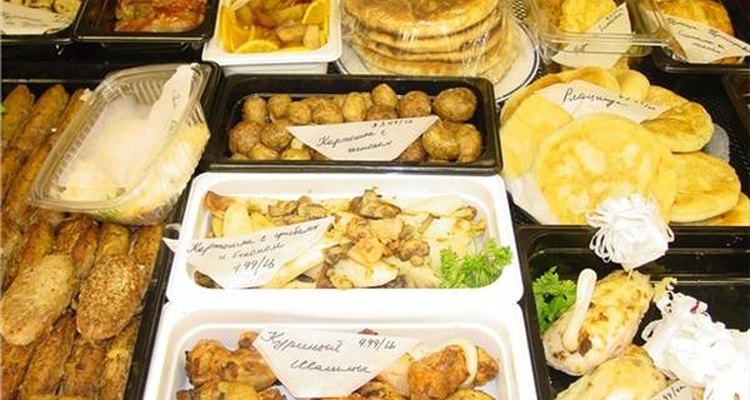 usc.edu
Have you ever dreamed of starting your own food-selling business? You can accomplish your goal by setting up a food vendor cart or table outdoors or at indoor special events. This way you will save money on overhead while sharing your culinary skills with the people in your community.
Purchase supplies. You can find discounted food items at local wholesale clubs like Costco or BJs, or buy in bulk at meat packing districts in your town. Don't forget to purchase plenty of condiments, cooking oil, seasonings, drinks and eating supplies for your customers, including forks, knives, spoons, handy wipes, cups and napkins.
Go to your local courthouse or town administration building and apply for a food vending permit. You cannot sell your food out on the street or to the general public without a permit. The only exception is when you are on your own property or at an approved event. If your state has a sales tax, you are required to collect sales tax on your food sales as well, so you will be required to register as a business so the state can collect sales tax from you. This is a very important step---if you're caught selling food without a permit you may face hefty fines and possibly have your food and equipment confiscated.
Purchase a vending cart or table. Consider how you will transport your cart when you're making this choice. Buy a food vending cart with wheels and a trailer hookup so you can attach it to your van or truck and haul it away at the end of a selling day. You can also just buy four or more folding tables to set up in a square if you will be vending food at a festival or fair.
Purchase additional equipment that you will need to cook and heat up food, including propane tanks, pots and pans, grills and utensils.
Design a large colorful poster with your business name, logo, phone number and motto, and hang it on your food cart. Use a large banner sign if you'll be setting up a food table. Create an easy to read price list for your customers that shows all the cooked food you have available for sale. Your price list can be your poster---just include the name of your business at the top.
Enlist help. Hire one or two more people to help you cook food, handle customers and deal with money. It's almost impossible to take care of all of these duties on your own.
Purchase a cash register and/or a safe to store money received while vending your food. Some food vendors choose to keep cash on their person rather than storing it in a register. Sign up for a merchant account if you want to give customers the option of using a credit card; there are cell phone merchant accounts available that will allow you to process a credit card using your cellular phone (see Resources section).
Pick a location. If outdoors, this will be one of the most difficult steps, because there is usually a lot of competition in high-traffic outdoor vending locations for spots to sell food. Scour popular areas in your town to find ideal locations for your food vending cart or table. Bring your list of locations to your town administration building to ask if the locations are OK for setting up a vending station. Scan the events listings in your towns and call coordinators to ask about vending fees for each event.
Resources
Tips
Get business cards made to hand out to your customers so they can call you for catering gigs.
Writer Bio
Louise Balle has been writing Web articles since 2004, covering everything from business promotion to topics on beauty. Her work can be found on various websites. She has a small-business background and experience as a layout and graphics designer for Web and book projects.
Photo Credits