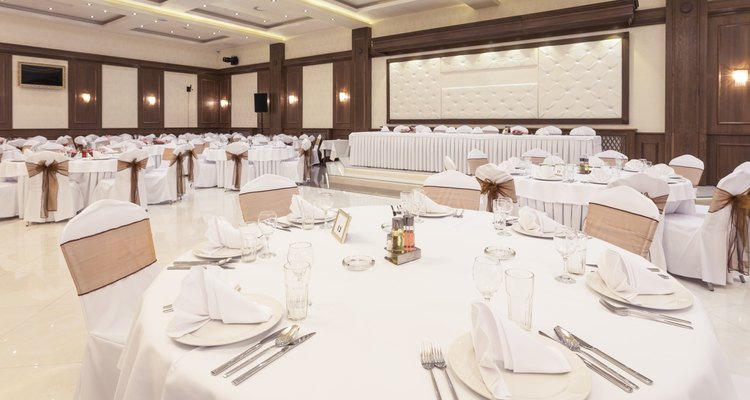 rilueda/iStock/Getty Images
Organizing the components for an effective banquet takes considerable advanced preparation. Decisions about the size, food and decorations must be made, and all have detailed lists of individual components. A checklist where tasks are listed in a timeline format helps keep major components in order and serves as a quick reminder of what still must be done. Dealing with groups of items on a schedule helps keep the details from slipping through the cracks.
Months Ahead
According to Key note resource, a company that helps with banquet speakers, major decisions like finalizing the date, choosing a venue and organizing speakers begins a year or more in advance. Once those details are in place, a preliminary people count and floor plan of the space layout can begin. When the total number of attendees is finalized, it's time to seek insurance coverage. Choosing suppliers for major components like catering and entertainment needs to begin months in advance. Themes or colors of the event should be decided early too. A theme helps with the overall direction for food service components and can influence the decor choices. Also research and book travel for out of town speakers, chefs or VIP's. Social media plugs can start once all of these plans are in place.
Weeks Ahead
Arrange a meeting with the venue manager and finalize the food and beverage menu. That can include orders for guests with vegetarian or gluten-free demands. Review the serving sizes, since they can vary by price point. Event rental company Your Event Delivered suggests an early overall check of the layout, which includes table placement, AV and music or projection screens. Finalize the quantity and delivery dates of off-site vendors such as photographers and florists. Review the guest list and confirm the number of attendees with the venue. Prepare and order written materials like signs, place cards, menus, programs or awards.
Days Ahead
Coordinate and check the travel information, if needed, for special guests. Take a final walk through with the banquet or venue manager to confirm layout and placement of food service areas. Discuss any special request meals or additions to the menu. Check the beverage orders and update the website or social media with directions or other final event details.
Event Day
Arrive early to load the event. This entails receiving and coordinating shipments from vendors and discussing last minute items with the venue manager. Ensure signs and place cards or other written materials are distributed. Review the event setup including photographs and AV, food placement and table place settings, check in area, party favors, the bar and the parking arrangements. Farmhouse.org, a social fraternity, recommends the host send post-event thank-you cards to vendors and speakers.
References
Writer Bio
Tela Lewis has written professionally since 2006. She primarily writes about travel destinations, women's issues, healthy relationships, real estate, property management and construction safety. Lewis produces articles for various local publications, including a monthly wine and travel newsletter. She has an Associate of Arts degree in English literature from Solano College.
Photo Credits
rilueda/iStock/Getty Images