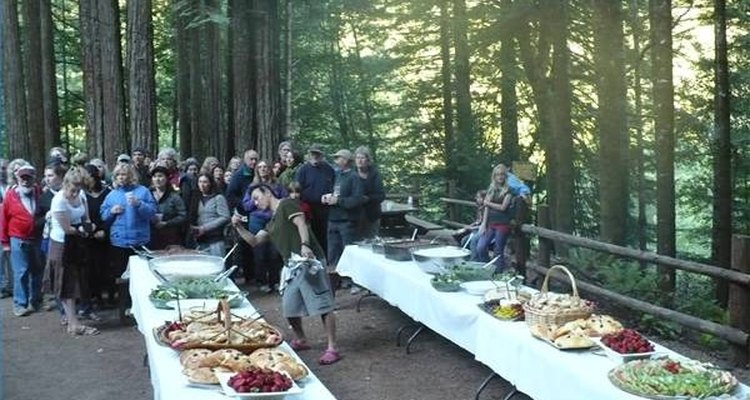 photo by Nikki Jardin
Getting all the components together for a full banquet service requires some planning and organization, but doing the footwork ahead of time can assure that the meal goes off without a lot of last-minute hassles. From planning and executing the menu to arranging the front-of-house service, there are some steps you can take to prepare for a banquet.
Prepare the menu. Make a list of all the dishes you would like to see on the banquet table, whether you are making the meal yourself or arranging a caterer to provide the cooking. You will need to know how many dishes you are offering, both hot and cold, in order to begin organizing the display table. Narrow your focus once you've come up with an initial idea. You might like to provide a banquet of Indian dishes. In order not to become overwhelmed, try coming up with two or three hot dishes, five salads or sides and two desserts. This should provide plenty for your guests to choose from without crowding the table or overwhelming your guests with choices.
Arrange for help. A banquet cannot be completed by one person. You will need to either hire a professional catering staff, or have a group of dedicated friends or volunteers to help out. If you are using friends, ask people who you know have experience in food service, or you could find yourself having to explain how to make coffee for fifty people when you should be focusing on other things.
Purchase or rent the equipment. If you are renting a hall for the banquet, chances are a kitchen will be available for your use, but check to see if it has everything you will need in stock. Industrial-size cooking pots, coffee machines, beverage dispensers, hotel pans and chafing pans for serving hot dishes and large serving bowls are just some of the items you will need. Also make sure you have enough plates, cups, stemware, cutlery and serving utensils. If the facility does not have enough of these things, you should be able to rent what you need from a business that specializes in party and event rentals.
Organize the table and seating needs. Make sure you have enough chairs and tables for people to sit at. After you've completed your menu, make a drawing of how you would like the food to be arranged on the banquet table to give you some idea of how much space you will need. If the banquet is self-serve, consider having doubles of each dish so that guests can use both sides of the table for smoother traffic.
Reserve a separate area for beverages. The drinks should not be on the same table as the food, as this can make service crowded. A table well stocked with self-serve coffee, water and juice can be placed near the food table. Alcoholic beverages can be self-serve, or you can arrange to have someone tend bar.
Writer Bio
Nikki Jardin began freelance writing in 2009 and focuses on food and travel articles. She has been a professional cook and caterer for more than 20 years. She holds a degree in environmental science from Humboldt State University.
Photo Credits