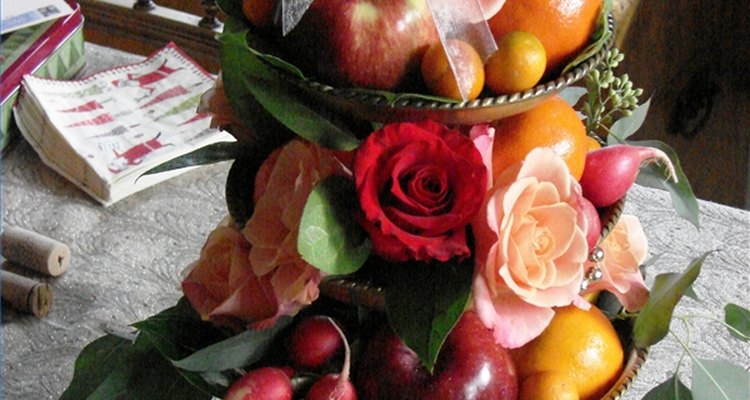 You want your buffet table to be attractive, but it must be functional, too. Before you plan a centerpiece, mentally lay out the food dishes where they can be easily reached by your guests. After you know more or less where the food will be, decide where you will put the centerpiece so that it will not be an obstacle. You can place one large piece in the center of the table. If you have a long table, you may want several smaller pieces among the food dishes.
Flowers and Candles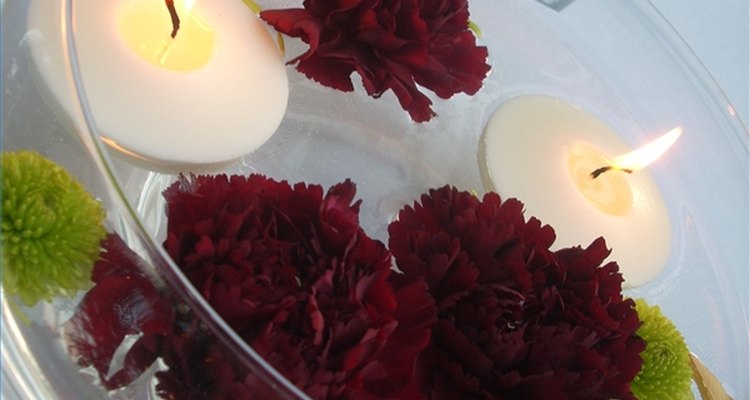 You can create simple, elegant centerpieces with flowers and candles. Choose one or more attractive vases, bowls or other containers to hold the flowers. Use containers that complement your color scheme and the flowers you will be using. If the centerpiece will be large, you can use one large container or group several smaller ones. To create height for your centerpiece, arrange several boxes of different heights under a cloth and place your centerpieces on them.
Fill a shallow bowl with water and float large blooms and small candles in them. Cut the stems short so that the flowers rest upright in the water.
Put a small bouquet of flowers in each of five or six mugs, and arrange the mugs on an attractive plate.
Fill a tea pot with a few flowers combined with mint or other herbs, such as rosemary and lavender.
Group half a dozen or more candlesticks and candles of different heights and textures.
Put a pillar candle in a hurricane glass and sprinkle flower petals around the base of the candle.
Create a wreath of flowers at the base of each of a group of candlesticks by putting double-sided tape on the candle base and sticking the flower stems to it.
Food Centerpieces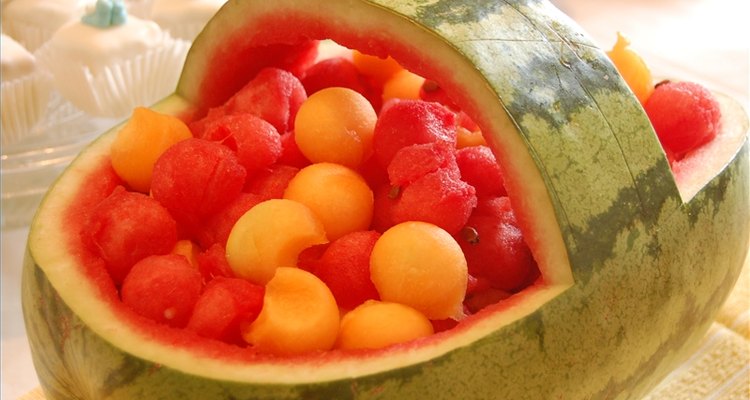 You can use food for your centerpiece. It can be as simple as a big bowl of fresh, whole fruit. Or try your hand at carving and arranging fruits and vegetables. Raise your carved-fruit centerpiece above the level of the other dishes.
Make a bouquet of vegetables. Put a block of florist's foam in the bottom of a large basket. Put small pieces of vegetables on wooden skewers, sticking the ends of the skewers into the foam. You can use radishes, cauliflower and broccoli florets, carrot sticks and bell peppers.
Make a fruit bouquet, instead of a vegetable bouquet, using berries and small fruits such as plums and cherries.
Carve a watermelon to look like a basket and fill it with fruit salad.
Use a tiered serving dish to hold strawberries or cookies dipped in chocolate.
Place a chocolate fountain in the center of the table, and surround it with small china plates of cut fruit, with a small cup of toothpicks in the center of each.
Writer Bio
Phee Paradise began writing professionally in 1996 when she covered town government for "The Sentinel," a weekly newspaper in Belchertown, Mass. She has written how-to manuals for student leaders and currently writes book reviews for a writers' blog. She holds a Bachelor of Arts in English from San Diego State University and a Master of Arts in communication from the University of Massachusetts Amherst.