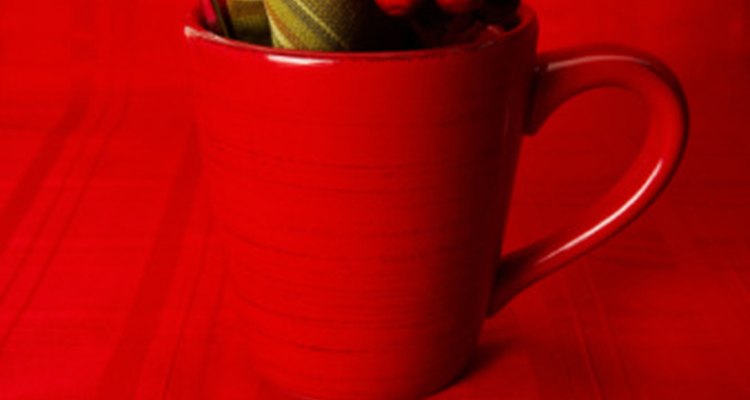 Jupiterimages/Photos.com/Getty Images
Whether you are entertaining guests in the privacy of your home or you are packing up a brown basket for a picnic at the lake, wrapping up your cutlery and napkins can be a decorative addition to your meal. With a little folding and tucking, you can create simple designs that will hold your forks and spoons in place.
Napkin and Utensil Wheel
For your buffet table, use a centerpiece made with silverware and bright, eye-catching napkins. A rotating tray is ideal for the base, but a simple plate or tray will do. Fold cloth napkins in bright reds, yellows or blues around each fork or spoon. Make sure the top of the utensil is peeking out at the top of the napkin. Lay them side by side on the turntable, plate or tray. They will begin to look like petals on a flower. To add a more decorative touch, add a real or fake flower of a different color in the center of the plate.
The Place Card Holder
For the more formal dinner party where place cards may be necessary, try a napkin and cutlery design that will hold a handmade name tag. Two sets of silverware are folded into two napkins. Silk napkins do well with holding their shape, but other fabrics will be just as fine. Print a place card using a computer, or add your own personal touch by creating one with your own handwriting. Center the place card in the middle of the two rolls of silverware, and add a fake or real flower for decoration.
Picnic Apparel
If you do this idea correctly, your napkins and cutlery will look like carrots. This idea can be used for a picnic using green plastic forks and spoons and bright green and orange beverage napkins. You can pick up your supplies in a party store or a department store with a party supply or gift wrap section. To make the carrot package, a small green napkin is tucked inside a folded over orange napkin. The ends of the orange napkin are taped together and the green napkin is sticking out at the top. The green napkins are stuffed inside the folds of the orange napkin and the whole thing is fastened with a piece of brown string.
The Simple Tuck
If you don't have a lot of time but still want an attractive display, try creating a triangle with your cloth napkin. The napkin is folded in half horizontally and then the bottom right edge of the napkin is folded to the top. The top left hand corner is then brought to the bottom, meeting the edge of the fold you just made. The entire left side is now folded onto the right side, forming a triangle. Tuck in the right side of the triangle to form a pocket to hold silverware.
References
Writer Bio
Sarah Brooks has been writing since 2008, contributing articles to various online publications. She previously served as a staff reporter for a daily newspaper in Amsterdam, N.Y. Brooks holds a bachelor's degree in magazine journalism from SUNY Plattsburgh.
Photo Credits
Jupiterimages/Photos.com/Getty Images