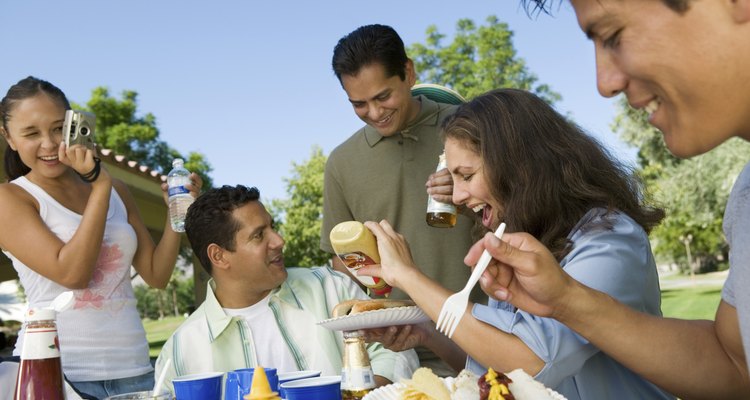 Mike Watson Images/moodboard/Getty Images
Getting the team together for dinner celebrates the camaradarie and friendship shared on the field. Team dinners should be relatively simple and not drain the fundraising reserves. A little bit of planning can pay off, allowing everyone to enjoy a meal together when the season is over.
Pasta Dinners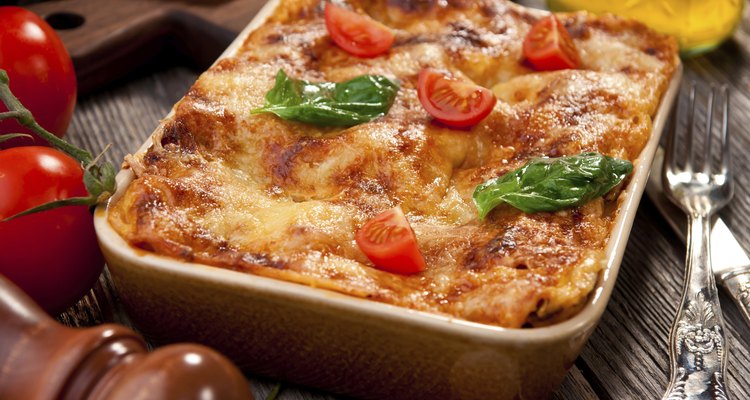 beti gorse/iStock/Getty Images
Pasta gets used so often for team dinners because it is inexpensive, filling and generally doesn't take a lot of know-how to prepare. Spaghetti is the most common and requires only decent-sized pots to cook the noodles and sauce in. Provide a green salad and bread, and you have a meal that most people can enjoy. Recently, wheat and gluten have been issues for people with food sensitivities, so you may want to check with the team to see if anyone has allergies to pasta. If so, rice or spelt noodles can be purchased and made separately without too much hassle.
If spaghetti is too tired an idea, try making a pasta casserole or lasagna. One advantage is it can made a day or two in advance. Many would agree casseroles are always tastier the next day anyway. Asking teammates to help divide cooking duties can make the dinner easier on everyone.
If you are charged with being the cook and are unsure how much food to purchase, ask the deli or meat manager at the supermarket for help in figuring out how much food will be needed.
Barbecue and Bars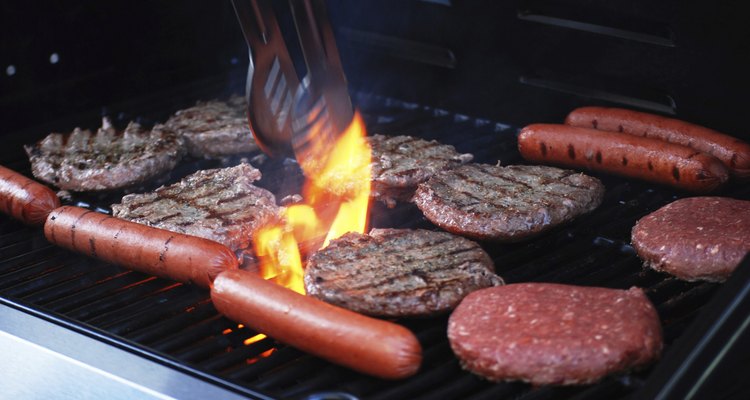 irabassi/iStock/Getty Images
Barbecues are great for a backyard affair after the game. Burgers and hot dogs bought in bulk won't break the bank, and vegetarian patties can be easily thrown on the grill for the non-meat eaters. Chicken, ribs or kebabs can also be grilled for something different. Have a green, potato or pasta salad as a side dish. In the summer, a fresh watermelon or fruit salad makes a refreshing dessert.
Another option, particularly if you have friends or partners of teammates to help, is to create a burrito or taco bar. Cooking up dishes of meat and beans and offering simple condiments of cheese, lettuce and salsa will feed plenty of people without huge expense.
Ordering Out
Polka Dot Images/Polka Dot/Getty Images
Pooling team funds and ordering from a pizza parlor or deli can take a lot of the fuss out of a team dinner, leaving everyone to enjoy each other's company without having to worry about cooking. This can cost a little, but it can help to plan ahead. Take a look through the weekly newspaper circulars or check with the local pizza place to see if they are offering any specials. Often when you buy multiple pizzas, beverages or a side dish will get thrown in at a discount or for free.
Supermarket delis might also offer specials on cold cut and cheese platters if you order more than one. These platters are generally the way to go if you want to put together a small sandwich bar. Ordering sliced meat by the pound can get expensive. Warehouse supermarkets like Costco or United Grocers might have deli trays available for a reasonable price.
References
Resources
Writer Bio
Nikki Jardin began freelance writing in 2009 and focuses on food and travel articles. She has been a professional cook and caterer for more than 20 years. She holds a degree in environmental science from Humboldt State University.
Photo Credits
Mike Watson Images/moodboard/Getty Images