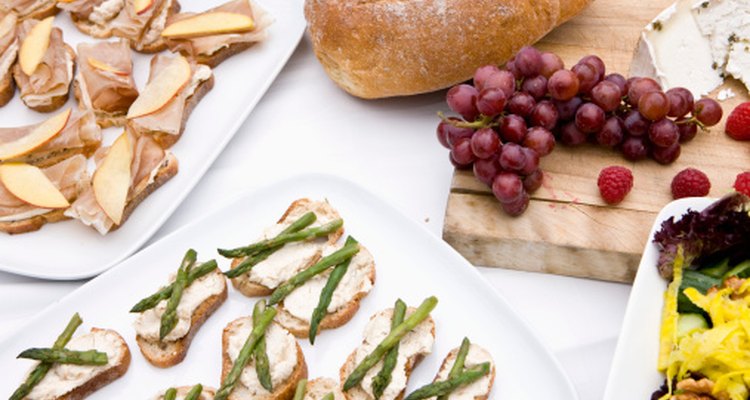 Thomas Jackson/Lifesize/Getty Images
If you've never planned a bridal shower, basics such as menu planning can overwhelm you with all the possibilities and unknowns. As far as bridal shower foods are concerned, there aren't many hard-and-fast rules about what to serve, except that you must serve something. Make food choices that reflect the bride's personality and preferences.
Bride-focused Food Choices
Since you're throwing the bridal shower in the bride's honor, you should honor her preferences by choosing her favorite foods or foods that have important family or cultural meaning to her. For example, a Greek bride with a large, hyper-involved family probably expects you to serve Greek foods. A homesick Southerner who's getting married in California might appreciate a soul food or country fried spread, while a sushi buffet is a natural choice for a sushi-holic. A straightforward recipe for success: ask the bride what foods she loves and serve that food. Hire a caterer for a formal meal or if you don't have much experience preparing her favorite dishes. If she has a favorite local restaurant, order take-out from them; notify them in advance if you will place a very large order.
Bridal Shower Foods: Snacks and Small Meals
If you're holding the bridal shower at mid-morning or mid-afternoon, most of the party-goers will have recently eaten. Don't waste money on a huge meal for a short, informal party. Instead, choose a time-appropriate theme such as bridal brunch or tea party. At a bridal brunch, serve deviled eggs, fresh fruit cubes and pastries. At a tea party, serve petit fours, miniature cheese sandwiches, shortbread cookies alongside a variety of teas. If you want to keep things light and simple, set out a few fruit, cracker and cheese plates or toss a giant salad to serve alongside rolls. In her book, "Cookie Swap!" Lauren Chattman recommends setting up a cookie exchange for an informal bridal shower; this idea is especially well-suited to a tea party for a bride with a sweet tooth.
Budget Bridal Shower Foods
If you've already maxed out your maid of honor budget on purchasing your own dress or paying for your own travel arrangements, even deli cheese and fruit plates might be prohibitively expensive, especially since they often cost over $20 a piece and you'd have to buy multiple plates to accommodate all your guests. If you want to save money but still deliver delicious and memorable bridal shower food, select a dish or appetizer you can make yourself. For a coed bridal shower, host the party in your backyard and grill up hot dogs and hamburgers. You can also make the party a potluck and ask each guest to bring their specialty side dish or entree.
Green Bridal Shower Food Ideas
Reward the eco-conscious bride with a sustainable shower that plays to her personal values. Many "green" types are also vegetarian or vegan for sustainability reasons; honor this by leaving all meat off the menu and serve only locally grown and certified organic foods. Spend the weekend before the bridal shower at your local farmers market picking up local organic fruits, vegetables, sprouts, nuts, desserts and cheeses. Get some takeout braised tofu from the best vegetarian restaurant in town, and look for artisan baked whole grain rolls to round out the menu.
References
"Cincinnati Wedding"; "Dare to Be Different"; Marnie Engel Hayutin; Autumn-Winter 2001
"The Everything Wedding Book"; Shelly Hagen; 2004
"Cookie Swap!"; Lauren Chattman; 2010
"The Everything Wedding Shower Book"; Jennifer Jenkins; 2001
"Lulu Power's Food to Flowers"; Lulu Powers and Laura Holmes Haddad; 2010
Writer Bio
Katherine Harder kicked off her writing career in 1999 in the San Antonio magazine "Xeriscapes." She's since worked many freelance gigs. Harder also ghostwrites for blogs and websites. She is the proud owner of a (surprisingly useful) Bachelor of Arts in English from Texas State University.
Photo Credits
Thomas Jackson/Lifesize/Getty Images