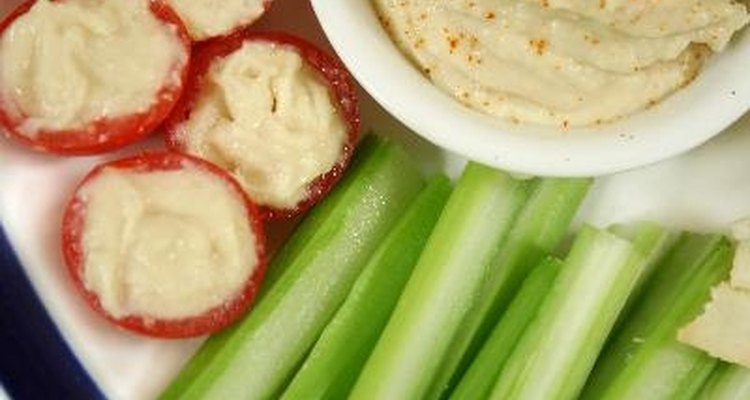 Entertaining platter with a combination of healthy finger food. image by Brett Mulcahy from
Fotolia.com
Whether you are hosting a casual wedding or even something more formal, finger foods are a great food option. After all, finger foods are often inexpensive, easy to prepare yourself and allow for a broad range of flavors and styles. Guests will appreciate the variety of food to choose from and the ease with which it can be eaten. The type of finger food you provide at your wedding reception is largely dependent on the type of event you are hosting. Also consider your budget, wedding theme and the diet of your guests when choosing a menu.
The Cocktail Hour
Formal wedding receptions lend themselves to many finger food options. For example, if you are hosting a cocktail hour, consider providing a large variety of savory hors d'oeuvres. Try cooked and chilled shrimp (with tails) in a small white dish with shrimp sauce. Or choose open-faced sandwiches that are easy to eat and filling as well. Some ideas include fresh roma tomato slices with fresh mozzarella garnished with basil on toasted, Italian bread. Or try a soft, wheat bread topped with a piece of lettuce and gourmet chicken salad. Also consider cheese and crackers, sushi, fresh fruit pieces on toothpicks, tarts and vegetables with homemade hummus for dipping.
The Barbecue/Grill Out
A barbecue or grill out wedding reception lends itself to more casual foods. Traditional American favorites such as deviled eggs, stuffed celery, assorted cheeses, vegetable and fruit trays, nuts and meatballs always go over well with wedding guests. For hot finger food options, try something a little more detailed, such as sauteed mushrooms, mini quiches, buffalo wings, popcorn chicken/shrimp and hot bread sticks with dipping sauces.
The Dessert Reception
Finger foods and desserts go hand in hand, and your guests will appreciate the sweeter options you present on your special day. Petite fours in a variety of flavors and styles make an elegant statement, as do macaroons, cookies, truffles and handmade mints.
For the more creative couple, consider dipping balls of cake into chocolate. Once the chocolate is dry, add a toothpick and sprinkles/sugar. Also try dipping pretzel rods into a white or dark chocolate, cream puffs with fresh whipped cream, fruit tarts and chocolate covered fruits. A fun option is to set up a cupcake decorating buffet complete with various frostings, toppings and cake flavors to choose from. These will make the ideal favor, especially if you include a box to store the finished product.
References
Writer Bio
Wendy Rose Gould is a professional journalist who has contributed to "Glamour" magazine and the Huffington Post, among other publications. After internships at the "Indianapolis Business Journal," "Kiwanis International" and "NUVO Newsweekly," she earned BA degrees in journalism and philosophy from Franklin College in 2008. Gould specializes in lifestyle topics.
Photo Credits
Entertaining platter with a combination of healthy finger food. image by Brett Mulcahy from Fotolia.com