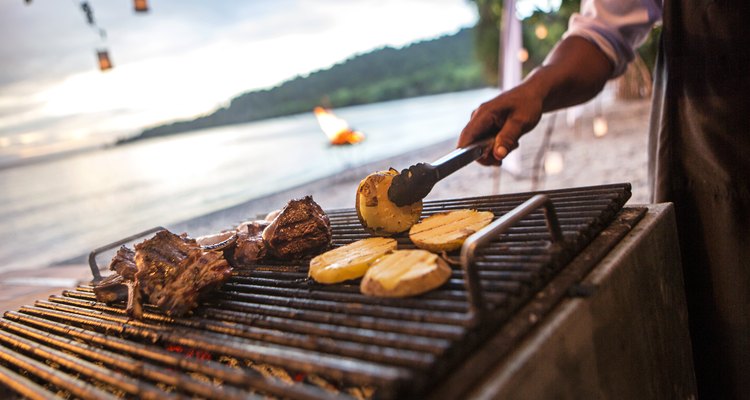 ShotShare/iStock/GettyImages
Boston butt, also known as pork shoulder or Boston blade roast, is a large cut of meat that comes from the area near the loin and contains the shoulder blade bone. Boston butt is incredibly versatile and lends itself to a variety of preparations. The well-marbled meat can be cooked whole or cubed. Smoked, grilled, roasted or braised, Boston butt is the basis for many tender and flavorful dishes. Boston butt is a smart choice for barbecue parties because it can be prepared in advance, it's relatively inexpensive and large cuts can feed plenty of hungry mouths.
Pulled Pork
Boston butt is the cut traditionally used to make pulled pork, a popular dish for barbecue parties. You can make pulled pork in a smoker, oven or slow cooker. Recipes and techniques abound, but the key ingredient in tender pulled pork is time. Cook the pork slowly at a low temperature to guarantee meat that pulls apart easily. Once your Boston butt easily pulls apart, shred it using two forks and mix it with your favorite barbecue sauce. Set up a serving station at your barbecue party with soft rolls so guests can make their own pulled pork sandwiches.
Shredded Pork Tacos
Boston butt is used to make carnitas, a Mexican dish comparable to American pulled pork. Like pulled pork, carnitas can be made in advance, and guests can serve themselves. Carnitas require Boston butt that has been prepared using a low, slow cooking process to break down connective tissue and create tender, bite-sized pieces of meat. You can make carnitas in the oven or a slow cooker. When party time arrives, set the carnitas out alongside small tortillas, chopped onions and cilantro, salsa and a crumbly Mexican cheese like queso fresco or Cojita.
Steaks
Boston butt can be sliced into steaks that you can quickly toss on the grill when your party guests arrive. Boston butt is usually sold whole, but you can ask your butcher to slice it into 3/4-inch steaks before you take it home. Boston butt steaks are actually a specialty in St. Louis, where they're served covered in barbecue sauce. Sear the steaks over high heat on each side, then brush with barbecue sauce and continue cooking until the internal temperature reads 145 degrees Fahrenheit. Let the steaks rest for at least 3 minutes before cutting into them. Serve the steaks whole or slice them into strips and arrange on a large platter so guests can serve themselves as much or as little as they like.
Side Dishes
Serve your Boston butt with a good selection of side dishes for a complete meal that's as memorable as it is filling. Take inspiration from your cooking method. Pulled pork is a perfect pair with coleslaw, baked beans or cornbread. Carnitas should be served with a variety of Mexican-inspired toppings so guests can customize their tacos depending on their preference. Of course, the old barbecue standbys also pair well with Boston butt cooked in any style. Set up a serving station complete with corn on the cob, potato salad and macaroni salad. Choose side dishes that can be prepared in advance so you can spend your time socializing with guests instead of tending to cooking dishes.
References
Resources
Writer Bio
Irena Eaves began writing professionally in 2005. She has been published on several websites including RedPlum, CollegeDegreeReport.com and AutoInsuranceTips.com. Eaves holds a Bachelor of Science in journalism from Boston University.