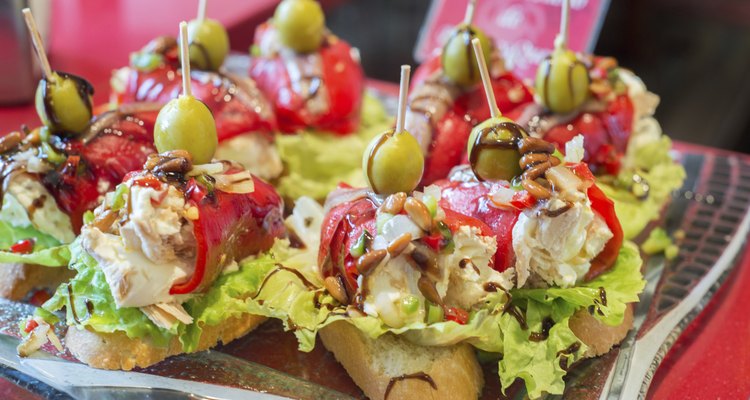 AlbertoLoyo/iStock/Getty Images
Pinchos, Spanish for "spikes," is a simple and versatile dish eaten in many Latin countries. These kabobs are commonly made with pork or chicken and a special marinade. They are usually topped with a small piece of toast or fried plantain. In Puerto Rico, street vendors serve pinchos as a fast treat. They are marinated with traditional Puerto Rican ingredients, such as adobo and achiote-flavored olive oil. By taking some common ingredients and adding some Puerto Rican spices, you can turn a normal kabob into a Puerto Rican pincho.
Mash six peeled garlic cloves and 2 tsp. of adobo in a mortar and pestle. The mixture should have the consistency of a paste.
Add 1 1/2 tsp. pepper and 3 tsp. ground oregano to the garlic and adobo. Stir in 3 tsp. of achiote-flavored olive oil and 3 tsp. of vinegar. Set aside the marinade.
Cut 1 lb. of pork or chicken into 1-inch cubes and place in a 1-gallon freezer bag.
Pour the marinade on the meat, mix, and seal the freezer bag. Place the bag in the refrigerator for at least 20 minutes. To enhance the flavor, leave your meat in the refrigerator for 24 hours.
Place the meat on the skewers and grill for 10 minutes. Be sure to turn the meat occasionally to cook evenly.
Serve the kabobs with small pieces of toasted bread or fried plantains.
References
Writer Bio
Nina Joiner graduated from the University of South Alabama with a double major in biology and philosophy. She is now pursuing a doctorate in pharmacy and has been writing since 2001.
Photo Credits
AlbertoLoyo/iStock/Getty Images