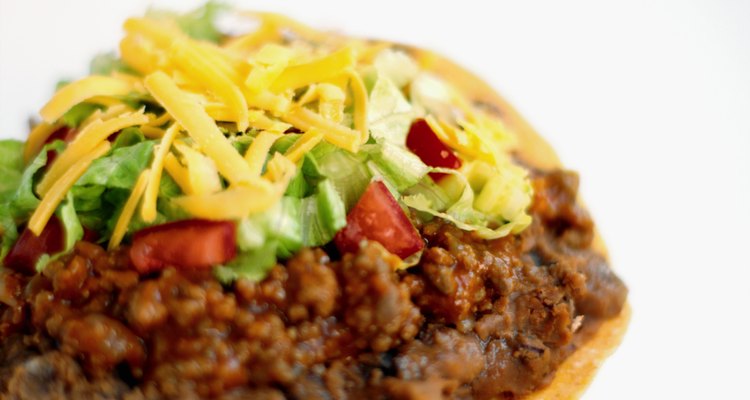 Ciaran Griffin/Stockbyte/Getty Images
To make multiple meals with the same ingredients, shop with multiple meals in mind, and be resourceful once you get home. Plan ahead when shopping and cooking, anticipating what meals you can make in the days to come, and use whatever leftovers you have on hand from the night before to create a new meal. Your thoughtfulness and your creativity save time, energy and money.
Chicken
If you poach an entire package of chicken breasts or roast a whole chicken, you'll have multiple dinners as long as you also have other basic ingredients on hand. One night, shred a few of the breasts for a pot of chicken and white bean chili topped with cheese, served with a green salad on the side. The next night, shred more chicken for chicken tacos filled with lettuce and cheese. Process any remaining chicken for chicken-burgers or lettuce wraps.
Ground Meat
Use ground beef or ground turkey for multiple meals by cooking more than you normally do. Serve chili or sloppy joes one night using canned tomatoes, diced red peppers, and frozen or canned corn. The next night, use the meat for burgers topped with roasted red peppers, serving a cold corn salsa on the side. Other meals that use these ingredients creatively include stews, curries served over rice or noodles, lasagna, and pot pie.
Cheese
Cheese, whether cheddar, jack, feta or goat, goes with just about anything you might have in the refrigerator. It adds creaminess to dishes such as omelets, pizza, pasta and salads. Add additional vegetables to all four meals, such as cooked mushrooms, diced red peppers, or broccoli, and save some lettuce from the salad night to serve on the side for the following meals. Add a can of salmon, shrimp or black beans to any of the meals for even more protein.
Leftovers
With small portions of leftovers, you have the ingredients for meals that don't rely on large portions of meat. For example, make minestrone soup with whatever meat and vegetables you have on hand, adding frozen vegetables and canned beans as well. Whip up a Greek yogurt sauce with garlic and serve the same meat and vegetables in pita bread topped with the yogurt sauce, or stir-fry the ingredients and serve over rice with soy sauce.
References
Writer Bio
Susan Lundman began writing about her love of cooking, ingredient choices, menu planning and healthy eating after working for 20 years on children's issues at a nonprofit organization. She has written about food online professionally for ten years on numerous websites, and has provided family and friends with homemade recipes and stories about culinary adventures. Lundman received her M.A. from Stanford University.
Photo Credits
Ciaran Griffin/Stockbyte/Getty Images