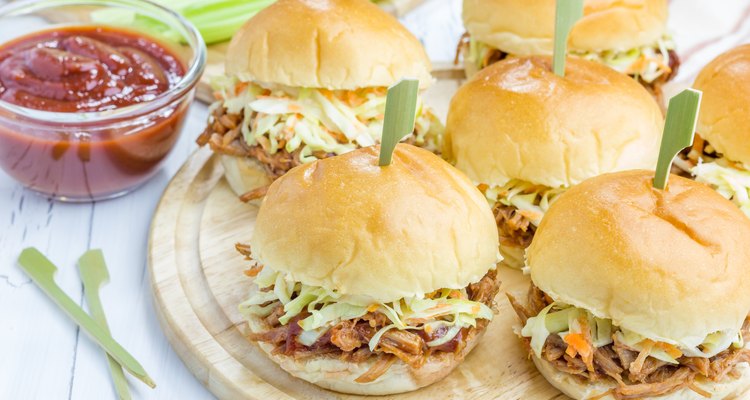 iuliia_n/iStock/Getty Images
Whether you're serving your family or a large gathering of hungry people, beef on a bun is a simple way to satisfy every appetite. Beef on a bun is a delicious, stick-to-your ribs meal on a cold winter night, or makes great picnic fare. Serve beef on a bun along with a big bowl of potato salad and a tray filled with a variety of fresh vegetables, olives and pickles.
Purchase a beef roast for your beef on a bun. Selection of meat depends largely on the cooking technique you plan to use. If you want to roast the beef quickly in your oven, select a tender roast such as a rib roast. Less expensive roasts such as chuck roast or round roast are delicious and tender when cooked in a slow cooker. The slower the meat is cooked, the more tender it will be.
Prepare a marinade. Begin with liquid ingredients such as beef broth, soy sauce, teriyaki sauce or barbecue sauce. The acid in wine vinegar, tomato sauce or orange juice adds flavor and tenderizes the meat. Add sweet flavors such as brown sugar, honey or molasses, or spicy flavors such as cayenne pepper or your favorite hot sauce. Blend in your choice of seasonings, such as garlic powder, onion salt, ginger, mustard or freshly ground black pepper, along with chopped onions or minced garlic. A small amount of olive oil or vegetable oil helps the marinade cling to the meat.
Whisk the marinade until the ingredients to blend the ingredients. If you're cooking the roast in a slow cooker, add the marinade directly to the crock pot, along with the roast. Cook until the meat reaches a minimum internal temperature of 160 degrees Fahrenheit. For roast cooked in the oven, place the marinade and the roast in a bowl or a large resealable bag. Allow the beef to marinate in the refrigerator overnight. Roast the beef, with the marinade, until the beef is tender and the internal temperature reaches at least 160 degrees. A 3-lb. roast takes approximately two hours to cook at 350 degrees Fahrenheit.
Allow the meat to sit for about 15 minutes after removing the roast from the slow cooker or oven. Use two forks to pull the meat into shreds. Distribute the shredded meat evenly among several toasted buns.
Spoon a small amount of marinade on each bun. Finish the beef on a bun with the top half of the bun and serve hot.
References
Tips
Check meat cook in a slow cooker often, as you may need to add additional liquid such as water or beef broth.
Leftover roast beef is easily turned into beef on a bun. Just shred the leftover beef, then add onions and your choice of barbecue sauce. Heat the mixture and serve it over a toasted bun.
Writer Bio
M.H. Dyer began her writing career as a staff writer at a community newspaper and is now a full-time commercial writer. She writes about a variety of topics, with a focus on sustainable, pesticide- and herbicide-free gardening. She is an Oregon State University Master Gardener and Master Naturalist and holds a Master of Fine Arts in creative nonfiction writing.
Photo Credits
iuliia_n/iStock/Getty Images