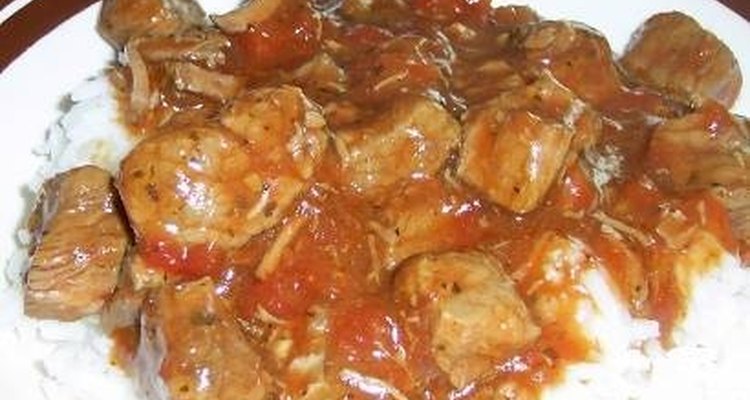 stock.xchng
This recipe for beef stew comes together quickly. The oven provides a steady heat to the stew, helping it cook evenly without having to stir it. Coat the meat with flour before browning it for a thick stew. If your market doesn't have stew meat readily available, cube 2 lbs. of larger cuts of meat, such as a chuck roast.
Place your oven rack in the center of the oven. Preheat the oven to 350 degrees Fahrenheit.
Combine the flour, salt and pepper in the large bag. Close the bag and shake it to mix the contents.
Place the meat in the bag, close the top and shake the bag to coat the meat. If you're using a paper bag, fold the top down a couple of times to close it.
Preheat the vegetable oil in a Dutch oven, casserole dish or heavy oven-safe pot with an oven-safe lid.
Place the meat from the bag into the Dutch oven and brown all the pieces evenly, on all sides.
Add the can of tomatoes along with the tomato juice, beef stock (or broth or water), carrots, celery, onion, potatoes, salt and pepper to the pot, and stir it all together.
Place the lid on the pot and bake in the oven for 2 hours, until the meat and vegetable are tender.
Remove the pot of cooked stew from the oven carefully, and serve hot.
Tips
If a lot of excess fat comes off the beef during browning, you can drain the fat out of the pot before continuing on with the recipe.
Photo Credits