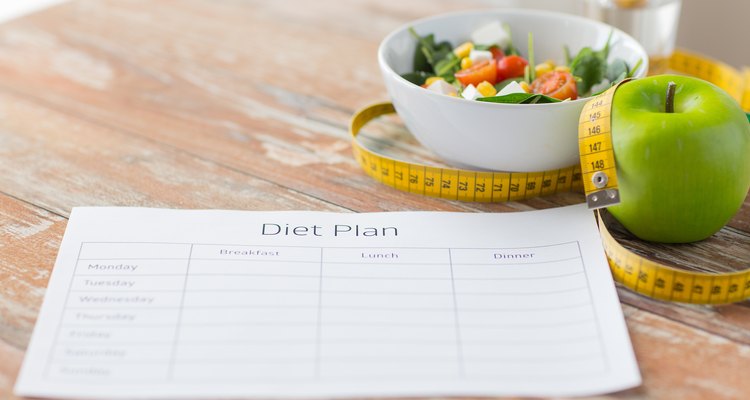 dolgachov/iStock/Getty Images
The Cabbage Soup Diet is a seven-day eating plan designed to produce rapid, short-term weight loss. Termed a "fad diet" by the Mayo Clinic, the soup diet is not recommended as a long-term diet plan and should be discontinued after one week, followed by two weeks of balanced eating, according to nutritionist Katherine Zeratsky. Breakfast on the soup diet is not a special meal, but part of the day's "allowed foods." The daily list provides foods for the entire day. Check with your doctor before beginning this or any new diet plan.
Soup
Every day on the cabbage soup diet, you are able to eat soup as often as you like, including for breakfast. The recipe varies, but always includes plenty of boiled cabbage in addition to other low-calorie vegetables such as onions, celery, mushrooms and carrots. Broth usually consists of tomato juice and chicken broth, with seasonings of your choice, excluding salt.
Day 1
The first day, the soup diet allows you to eat all the fruit you want, excluding bananas due to their high starch content. Avoid fruit juices, fruit snacks and fruit flavorings. Choose, whole fruits in addition to cabbage soup. For breakfast try orange wedges, grapefruit segments and pineapple chunks for a tropical start to your day.
Day 2
The second day prohibits any fruit, but allows all the fresh vegetables you like for breakfast and throughout the day, cooked or raw. Avoid starchy vegetables, such as corn or potatoes. Abstain from legumes, as well. Dinner allows for one baked potato with a small amount of butter. For breakfast, saute onions, peppers and mushrooms in non-stick spray and top your bowl of soup with the extra vegetables.
Day 3
The third day is a combination of fruits and vegetables, but no potato at the end of the day. For breakfast, consider a bowl of fresh fruits cut-up in bite-sized pieces in various colors with a sprig of mint. Save the veggies for lunch and dinner, but include soup with your breakfast if you are still hungry.
Day 4
The fourth day allows for up to eight bananas and as much skim milk as you care to drink. For breakfast, try a bowl of sliced bananas with skim milk poured over top. Have soup, too, if you like.
Day 5
Almost to the end of the week, add meat to your plan. Have up to 20 oz. of beef or chicken without fat or skin throughout the day. For breakfast, add a chopped chicken breast to your bowl of cabbage soup.
Days 6 and 7
Day 6 allows as much meat and green leafy vegetables as you like, plus more soup. Breakfast might include ground turkey with zucchini slices and tomatoes. Day 7 includes as much brown rice as you care for, in addition to unsweetened cranberry juice, vegetables and more soup. For breakfast, have juice and a bowl of rice to start your last day.
Warnings
Be sure to speak with your doctor before beginning this low-calorie diet. Side effects of very low-calorie diets include fatigue, nausea, constipation and could lead to gallstones or malnutrition if continued for too long. Also, be sure to drink plenty of water.
References
Writer Bio
Writing since 1978, Allison Stevens was writer and publisher of the Calvary Christian Fellowship newsletter and has had work appear in various online publications. Stevens has certification to teach group fitness and is a licensed Zumba instructor, teaching fitness classes for adults and children daily. She enjoys researching various subjects including health, and holds an Associate of Arts.
Photo Credits
dolgachov/iStock/Getty Images