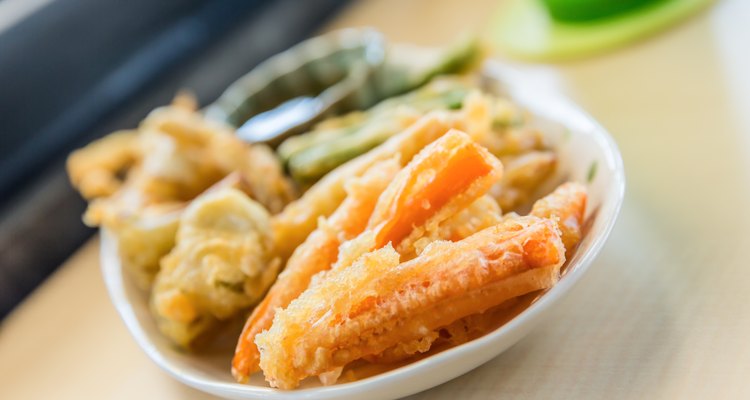 dourleak/iStock/Getty Images
The Samurai Diet is inspired by the Japanese style of eating. The diet plan takes three months to complete and claims an average weight loss of 1 to 2 lbs. per week. The Samurai Diet provides you with complete menu plans and requires you to complete four to six hours of moderate exercise per week and drink at least one gallon of water per day. A lifetime membership costs $10. As with any diet plan, you should speak to a medical professional prior to starting the Samurai Diet.
Monday to Wednesday
On Mondays, the Samurai Diet requires you to eat cereal for breakfast, a sandwich for lunch, and rizza and soup for dinner. On Tuesdays, the diet consists of toast, fruit and leftover soup for breakfast, rice cakes for lunch and nabe for dinner. On Wednesday, breakfast includes yogurt and nabe, lunch features nabe, and dinner consists of soba and soup. The diet also allows you to eat a snack during the day. Examples of snacks include mixed nuts, chocolate and muffins.
Thursday to Saturday
On Thursdays, the Samurai Diet requires you to eat mixed fruit and a muffin, a sandwich and tempura. On Fridays, you start the day with yogurt, fruit and a muffin. Lunch consists of tempura leftovers, and dinner features okonomiyaki. The menu on Saturday includes cereal for breakfast, okonomiyaki leftovers for lunch, and fish, salad and soup for dinner.
Sundays and Health Resources
On Sundays, the Samurai Diet includes toast and fruit for breakfast, meat with a salad for lunch, and fish, rice and salad for dinner. The Samurai Diet also provides you with several health resources. These resources include a fitness guide for busy professionals, information on how to overcome insomnia and information on how to boost your metabolism.
The Metabolic Syndrome
According to a 2007 Reuters article, several Japanese government officials lost weight using the Samurai Diet. However, one of them died from heart failure. The government officials had metabolic syndrome, a common disorder in Japan characterized by excess belly fat, high cholesterol levels and high blood pressure. Despite the death of the government official, the remaining government officials continued with the Samurai Diet, completing the plan successfully. It is not known if the official died as a direct result of the Samurai Diet. No clinical studies exist specifically examining the safety or effectiveness of this diet. You should, therefore, always consult a medical professional prior to attempting this diet.
References
"Japanese Women Don't Get Old or Fat"; Naomi Moriyama; 2006
Writer Bio
Jessica Jacobs is a registered dietitian and professional writer, contributing to "Fitness Magazine" since 2003. She received a B.A. in journalism from Arizona State University and an M.S. in nutrition and food sciences from the University of Texas at Austin.
Photo Credits
dourleak/iStock/Getty Images