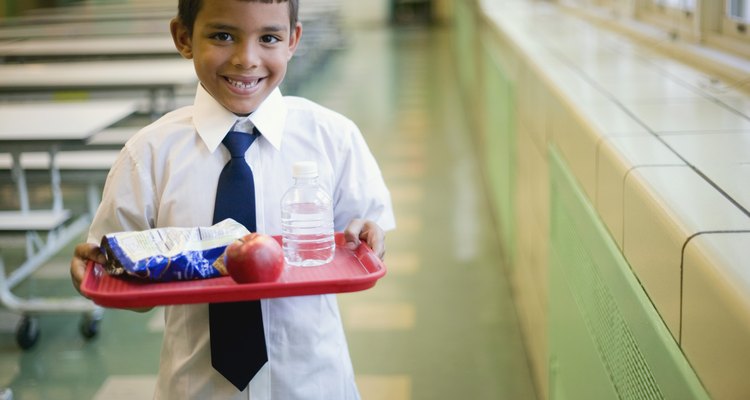 Creatas/Creatas/Getty Images
The U.S. Department of Agriculture's National School Lunch Program, or NSLP, helps regulate the types of food that children eat at school. The program's goal is to make sure every meal meets a child's nutritional needs based on basic dietary guidelines. Despite this, some critics contend that school lunches are sorely lacking and believe that children would be better off with well-balanced home-packed lunches.
Requirements
Any school expecting to receive reimbursement for school lunches needs to meet the U.S. Department of Agriculture's dietary requirements. The average school meal must have no more than 30 calories from fat, no more than 10 percent of calories from saturated fat and provide 1/3 of children's Dietary Reference Intake for protein, calories, calcium, iron and vitamins A and C, according to the U.S. Department of Agriculture's Food and Nutrition Service. Meal offerings are analyzed on a weekly basis.
Menus
Schools are given five menu-planning system options to ensure that their meals meet basic nutritional requirements. Schools have traditionally used the food-based menu planning system, which requires specific food components – milk, meat or meat alternative, grains and breads, and fruits and vegetables – to be served in set amounts for three different age groups. However, schools may also use systems such as enhanced food-based menu planning or nutrient-based menu planning to create standards-consistent meals. These different menu approaches can help schools provide the right amount of nutrients, fiber and calories for specific age groups or adjust the amount of fat and cholesterol that students eat.
Shortcomings
According to the third School Nutrition Dietary Assessment Study, published in 2007, schools consistently don't meet the U.S. Department of Agriculture's fat requirements. The survey for the 2004 to 2005 school year showed that most school lunches had 34 percent of calories from fat and only about 20 percent of schools met the total fat guidelines. And although an increasing number of schools met saturated fat requirements, about 70 percent of the schools in the survey offered meals that had over 10 percent of calories from saturated fat. This is troubling because over 1/3 of children ages 6 to 19 are either overweight or obese and at higher risk of chronic health problems such as type 2 diabetes and high blood pressure.
Upgrades
In response to the growing obesity epidemic and in an effort to combat unhealthy school lunch menus, the U.S. Department of Agriculture proposed a rule in 2010 to update school meals' nutrition standards. The update was part of the Healthy, Hunger-Free Kids Act of 2010, which the president signed into law in December of 2010. Some of the upgraded standards included: fruit requirements increased from ¾ to 1 cup, vegetable requirements increased from ½ to 1 cup, grain requirements doubled and whole grains emphasized, emphasis placed on certain vegetables – such as dark leafy greens, beans and orange vegetables – and lunch calorie levels went down to 550 to 650 for K through 5, 600 to 700 for middle school and 750 to 850 for grades 9 through 12.
References
Writer Bio
Christa Miller is a writing professional with expertise in massage therapy and health. Miller attended San Francisco State University to earn a Bachelor of Arts in creative writing with a minor in journalism and went on to earn an Arizona massage therapy license.
Photo Credits
Creatas/Creatas/Getty Images