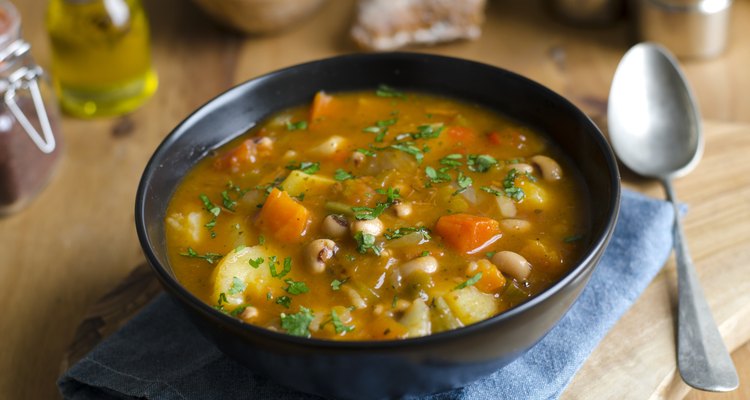 martinturzak/iStock/Getty Images
Bean soup is a dietary wonder. Healthful and filling, bean soups provide protein, fiber, complex carbohydrates, vitamins, minerals, antioxidants, flavonoids and, of course, robust taste, comforting warmth or refreshing coolness. There are many varieties of low-cost, high-nutrient beans--and most of them can be turned into soup.
Beans' Antioxidant Load
Beans' skins are colorful indicators of plant chemicals and antioxidants that protect body tissues from excessive free radical activity. Science Daily reports that black, purple, red and brown beans are particularly rich in pigmented flavonoids; these beans include black, adzuki, pinto, kidney and anasazi beans. Yellow beans, which include lima beans and yellow peas, and white beans such as chickpeas and other light-colored beans, do not have as many pigmented antioxidants. However, the USDA notes that the soybean, a white bean, contains the antioxidant tocepherol, a form of vitamin E that protects cell membranes.
A Diet With Bean Soup
Bean soup takes bean nutrition one step further. In just one bowlful, bean soup provides not only beans' phytonutrients but also superior hydration and the benefits of herbs and spices, the spiciest of which can alleviate sinus discomfort and muscle pain and help with weight loss, according to a report from WPXI news. Bean soup's protein provision is legendary in wellness circles; any soybean-based soup will have "complete" protein, meaning it contains all 18 amino acids required by the human body; multi-bean soups combine different beans' protein to get all those amino acids.
Fiber and Water for Optimal Digestion
A diet of bean soup is profoundly good for your digestive health. Bean soup provides insoluble fiber, which helps your gut to perform optimally. Bean soup's high water content keeps the fiber from gumming up the system, so to speak. Bean soup can also help to thwart overeating. Water-based foods have proved more effective than water alone for controlling hunger pangs and calorie intake; with soups and hot cereals among the top choices for calorie-reducing diets, according to Weight Loss Resources.
A Bright Bean Soup for Breakfast
Breakfast can feature a chilled sweet pea and watercress soup with a topping of mixed berry yogurt, walnuts and cinnamon. The peas and nuts combine protein, the yogurt provides calcium and protein, and the cinnamon helps to moderate blood sugars, the American Diabetes Association reports.
Bean Soup for Lunch and Dinner
After breakfast, bean soup seems only normal. Your entire day could feature a succession of sweet, salty, creamy, clear, thin, thick, hot, cold and spicy soups -- the recipes are too numerous to count. Two healthful, creative options are All Recipes' Three Bean Soup, with 215 cal. and only 3.8 g fat per serving. The New York Times' Black Bean Soup With Spinach is a powerhouse of antioxidant pigments from the beans, garlic-based flavonoids, iron from spinach, and heart-healthy canola oil. If, for health reasons, you must significantly increase your calories, keep the bean soup and add calorie-rich avocado, olive and walnut oil, and cheese.
References
Resources
Writer Bio
Based in New York City, Fiona Bayly writes about running with a focus on health, nutrition and training strategies for athletes from beginner to professional. She is an avid triathlete, former New England Scholastic Cross Country champion and current member of TeamUSA's age-group championship team in the sport of Aquathlon.
Photo Credits
martinturzak/iStock/Getty Images