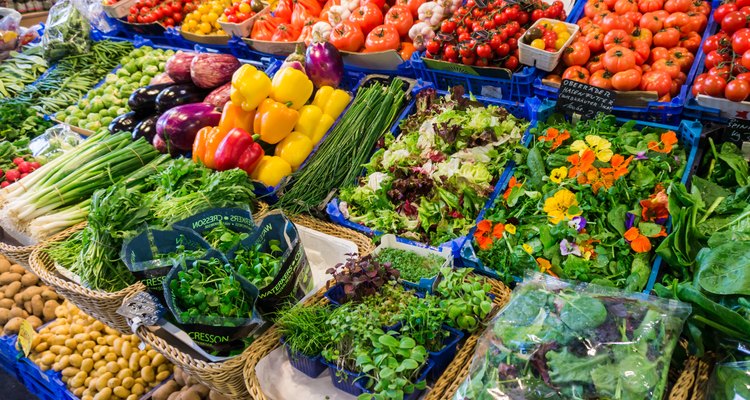 ewastudio/iStock/Getty Images
Vegetarian diets can provide many health benefits, such as reduced rates of death from ischemic heart disease and decreased incidence of hypertension, stroke, type-2 diabetes and certain cancers. With the proper planning, a vegetarian diet can be both delicious and meet all of your nutrient needs.
Day One
For breakfast on day one, have 1 cup of steel cut oats and top it with walnuts, dried cranberries and shredded coconut flakes. The oats provide up to 4 grams of fiber, and the walnuts offer healthy omega-3 fatty acids. Serve with a tall glass of almond milk and a sliced apple for even more fiber. A vegetarian lunch can be as simple as a black bean burger -- which can offer up to 10 grams of protein per patty -- with a whole wheat bun. Stuff the burger with lettuce, tomato and sliced onions and serve with a side of baked sweet potato fries for your daily vitamin A. At dinner, saute broccoli, peppers, onions and garlic with chopped, extra-firm tofu. Serve over brown rice to boost the protein content of the meal to 20 grams.
Day Two
A slice of whole wheat bread topped with a creamy almond butter and a sliced banana makes for a hearty vegetarian breakfast and provides 7 grams of protein and up to 500 milligrams of potassium. For lunch, slice a baguette and spread hummus on each side. Then add grilled eggplant, peppers and zucchini to make a nutrient-dense sandwich. The vegetables provide a variety of vitamins and minerals, while every 2 tablespoons of hummus offers 2 to 3 grams or plant-based protein. At dinner, make a healthy chili by using a base of black beans, pinto beans, kidney beans and fresh vegetables. If you are a lacto-vegetarian -- meaning you consume dairy -- add 1 ounce of cheese to each bowl.
Day Three
On day three, make a protein-rich smoothie with tofu, soy milk, blueberries and kale. For a fiber boost, add 1 tablespoon of chia seeds to the mix, providing omega-3 fatty acids that boost heart health. At lunchtime, make your own pizza by spreading tomato paste on top of a piece of whole wheat pita bread. Studies suggest that the lycopene in tomato paste can help reduce prostate cancer in men. Saute chopped red onions, bell peppers, tomatoes, mushrooms and garlic in 1 tablespoon of vegetable oil. Spread veggie mix on top of whole pita bread and then toss in the oven at 350 degrees. Cook for 10 minutes or until crust is toasted. If you are a lacto-vegetarian, add 1 ounce of mozzarella cheese to your pizza before putting it in the oven.
Other Considerations
The U.S. Department of Agriculture recommends making half of your plate fruits and vegetables, one-fourth of your plate grains and the remaining one-fourth protein. Additionally, vegetarians should eat a wide variety of foods to prevent vitamin and mineral deficiencies. For example, pay special attention to vitamin B-12, vitamin D, calcium, zinc and iron. Most of the nutrients can be obtained through a varied diet, a supplement or by consuming a fortified breakfast cereal. Consult your registered dietitian for an individualized meal plan.
References
Resources
Writer Bio
Jessica Jones is a registered dietitian with a master's degree in nutrition. Jones has worked as a clinical dietitian at Kings County Hospital in Brooklyn and as a senior nutritionist for the NYC Department of Health. She currently co-hosts Food Heaven Made Easy (www.foodheavenmadeeasy.com), a healthy cooking and nutrition webseries. The California native received a Bachelor of Arts in journalism from San Francisco State University, and has penned hundreds of articles about food, health and culture for publications like the "Village Voice," "Time Out New York," "amNew York" and "Today's Dietitian."
Photo Credits
ewastudio/iStock/Getty Images