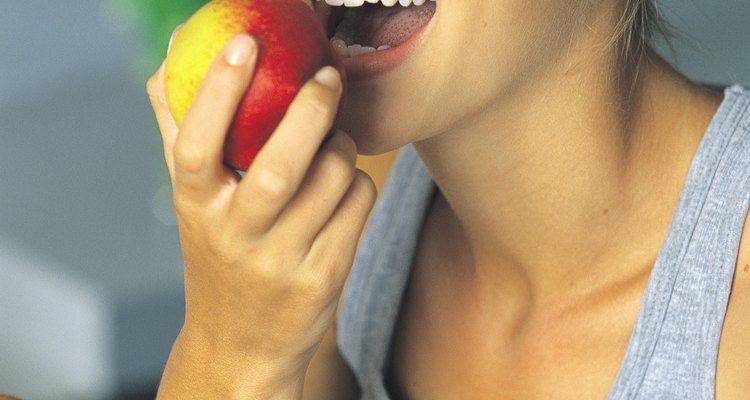 Goodshoot/Goodshoot/Getty Images
Consumers seldom think about their potassium levels until their numbers spike or plummet. This electrolyte works in conjunction with magnesium and sodium to keep our hearts, digestive systems and kidneys functioning. Potassium overload is called hyperkalemia, which left untreated can lead to irregular heart rhythm. A diet menu to lower potassium requires foods with smaller amounts of this vital mineral. Making wise choices can be daunting because some healthy foods like bananas contain lots of potassium. Always work closely with your pediatrician before modifying your child's diet.
Produce
Loading a plate with extra veggies and fruits sounds like a common-sense resolution to a surplus of potassium in your system. However, some popular healthy foods are high in this electrolyte. Forbidden fruits include honeydew, cantaloupe, papayas, avocados and mangoes, according to the American Association of Kidney Patients. High-potassium vegetables include tomatoes, spinach and peas. Instead, serve apples, pineapples, peaches, watermelon or grapes. Nosh on bell peppers, green beans, onions and summer squash.
Breakfast
Start the day with a low-potassium breakfast that includes an English muffin with margarine, 1 1/2 cups of unsweetened puffed corn cereal and two medium eggs, suggests Dr. George Bakris and registered dietitian Barbara Olendzki in the UpToDate.com clinical online community. Avoid slathering peanut butter on a muffin because two tablespoons have 214 milligrams compared to the four milligrams in your margarine, according to the Drugs.com potassium guide. Serve fruit juices like cranberry or apple instead of orange juice that's loaded with potassium.
Lunch
Enjoy a noontime break with three ounces of turkey on bread with low-fat mayonnaise. Toss a small garden salad with lettuce, cucumber, carrot, hard-boiled egg and low-fat cheddar cheese. Top with a light dressing. Incorporate some snacks into your daily routine. An apple and some cheddar cheese make filling mid-morning and afternoon snacks. Other suggestions include a tangerine or two small reduced-fat oatmeal cookies to keep you or your child going without throwing too much unwanted potassium into the mix.
Dinner
Be diligent in watching your portion sizes of meats at dinner when reducing potassium consumption. Four ounces of baked skinless chicken falls into this restricted diet because it contains 287 milligrams of potassium. Coat a chicken breast with a dab of oil and crushed croutons for extra taste. A comparable second choice is three ounces of cooked lean beef that contains 224 milligrams. Finish your meal with salt-free cooked green beans and a cup of white rice cooked in unsalted water.
Dairy
Some of your favorite calcium-rich products can boost your potassium levels, reports Drugs.com. One cup of 2 percent milk contains 377 milligrams, while six ounces of yogurt has nearly 400 milligrams. Half a cup of vanilla ice cream is considered to be moderate in its level of potassium, with 151 milligrams. Your best bets are an ounce of cheddar cheese with 28 milligrams or American cheese with 79 milligrams per ounce.