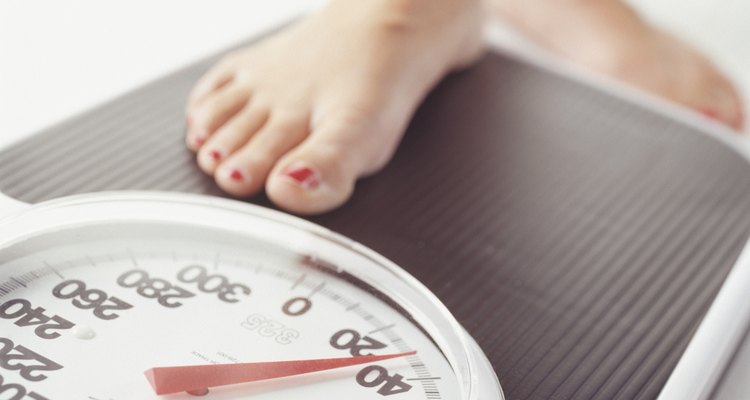 Photodisc/Photodisc/Getty Images
If you are trying to lose weight, a meal plan that contains between 1,300 and 1,400 calories can help. Constantly measuring and trying to stick to this number of calories can be time-consuming, however. Use a set meal plan so you can evenly distribute your calories throughout the day on satisfying and nutritious foods to help keep yourself from getting overly hungry.
1,325-Calorie Plan
Make an omelet with 4 egg whites and 1 slice of Swiss cheese and have with two slices of rye toast, 4 oz. of skim milk, and a kiwi for breakfast. For lunch, mix together 1/2 cup of roasted chicken breast with 1/2 cup of whole-wheat pasta, chopped celery, and red pepper and 1 tbsp. of light mayonnaise or fat-free creamy dressing. Have a plum for dessert. For dinner, broil 3 oz. of tilapia and serve in two corn tortillas with 1 cup shredded cabbage, 2 tbsp. of salsa verde, and one-fourth of a chopped mango. Your snacks could be a small apple with a string cheese and, later, five woven wheat crackers with 2 oz. of deli ham.
1,350-Calorie Menu
A balanced, 1,350-calorie meal plan might begin with a whole-wheat English muffin topped with 1 tbsp. of peanut butter and a pear. For lunch, you could fill a whole-wheat tortilla with 4 oz. of steamed shrimp, fat-free creamy dressing and baby spinach leaves. Dinner might consist of 1/2 cup of roasted, skinless chicken breast with 3/4 cup of cooked quinoa and five steamed asparagus spears. Have a glass of skim milk with one of the meals to help you get adequate calcium. To combat between-meal hunger, have a cup of fat-free plain yogurt with 1 tsp. of honey and eight strawberries for one snack, and later have two rye crisp crackers with a wedge of light, creamy Swiss cheese or spread with fat-free ranch dip.
1,375-Calorie Menu
A breakfast composed of 1/3 cup of dry oatmeal cooked in water served with 1 cup of blueberries, 2 tsp. of brown sugar, six chopped almonds, and 1/2 cup of milk starts your day. For lunch, have a cup of lentil soup with 2 oz. of deli turkey and sliced tomatoes sandwiched between two halves of a whole-wheat English muffin. At dinner, grill 3 oz. of flank steak and serve with a medium baked sweet potato and a large green salad topped with 2 tbsp. of fat-free dressing. You might enjoy 1/2 cup of low-fat cottage cheese with 1/2 oz. of cashews as one snack ,and a peach at a later time during the day.
Considerations
A 1,300 to 1,400 calorie meal plan is not appropriate for everyone in the family. Most men and teens need at least 1,500 calories per day, even when trying to lose weight. Healthy meal plans do not encourage meal skipping.
References
Writer Bio
Andrea Cespedes is a professionally trained chef who has focused studies in nutrition. With more than 20 years of experience in the fitness industry, she coaches cycling and running and teaches Pilates and yoga. She is an American Council on Exercise-certified personal trainer, RYT-200 and has degrees from Princeton and Columbia University.
Photo Credits
Photodisc/Photodisc/Getty Images