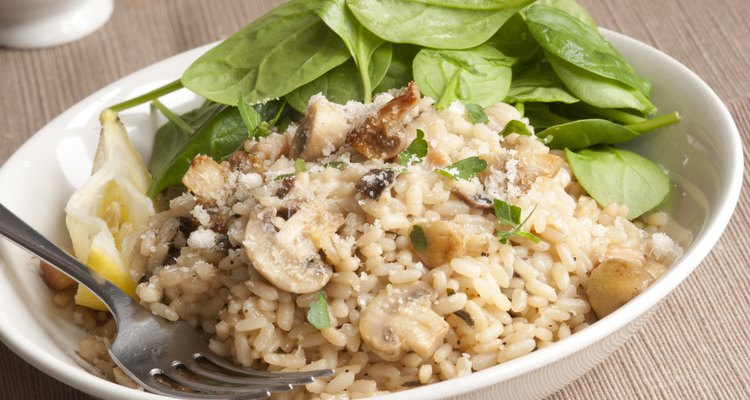 martinturzak/iStock/Getty Images
A vegan diet is one that is void of all products derived from animals -- meat, eggs and dairy as well as honey and gelatin. Rather than consume animal products, vegans follow a plant-based diet. Whether you are looking for a 21-day change or a three-week plan to jump-start your new vegan diet, it is important to arm yourself with the essential information and support necessary to make the transition.
Protein
When switching to a vegan diet, you may worry about your protein intake. At least 10 percent of a vegan's daily diet should consist of protein, and you can meet this easily by eating a variety of foods including vegetables, beans, nuts, seeds and grains -- all of which contain protein.
Sample Menu
A typical vegan breakfast may include whole-grain toast and steel-cut oats topped with fruit. For lunch, prepare baked tofu or seitan in a wrap with spinach and brown rice. A black bean burger with grilled portobello mushrooms and a side salad can round out the meals for the day. To vary the menu, consider additional vegan items, such as a natural peanut butter sandwich, lentil salad, vegetable stir fry, kale smoothies and quinoa topped with tempeh.
Quantum Wellness Cleanse
Kathy Freston, author of the "Veganist" and the "Quantum Wellness" series, recommends a 21-day vegan cleanse to jump-start "a quantum shift to a higher state of wellness." Aside from abstaining from animal products, you also must avoid foods and drinks containing sugar, caffeine, alcohol and gluten. The three-week cleanse is designed to curb craving triggers and rid the body of artificial stimulants and depressants. Additionally, by being mindful of what you eat and its impact on animals and the environment, you will start the journey toward what Freston calls "conscious eating."
PCRM Vegan Kickstart
Developed by Physicians Committee for Responsible Medicine founder and president Neal Barnard, the 21-Day Vegan Kickstart is a free online program available to anyone seeking to learn about and experience the health benefits of a vegan diet. To participate, you must fill out a short form on the organization's website which will allow you to gain access to plant-based recipes, nutrition webcasts, a 21-day meal plan and tips from celebrities and vegan notables including Kris Carr, Alicia Silverstone, John Salley, Marilu Henner and Rip Esselstyn. According to PCRM, by following a low-fat vegan diet, you will lose excess weight and also reduce your risk of cancer, diabetes, heart disease and high blood pressure and cholesterol.
References
Writer Bio
Daelyn Fortney is the co-founder and managing director of the animal rights and eco-friendly news source, This Dish Is Veg. Her expertise includes animal welfare, vegan and vegetarian nutrition and health and wellness. In addition to her work at TDIV, Fortney writes for Local.com and various other websites.
Photo Credits
martinturzak/iStock/Getty Images