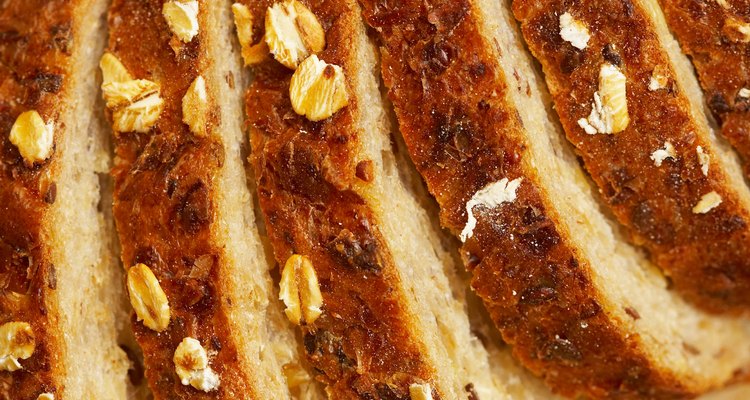 Jupiterimages/Photos.com/Getty Images
Feeding your family a diet high in fiber offers the ones you love numerous health benefits. Dietary fiber isn't just good for digestion -- it also helps reduce cholesterol levels. Making a high-fiber lunch doesn't have to be any more difficult that making a standard lunch. Read labels and choose foods high in fiber to easily add healthy roughage to your family's diet. Your family might not even notice that you've switched them to high-fiber lunches.
Sandwiches
Sandwiches are always a handy lunchtime meal. Swap out the white bread and use a whole-grain wheat bread to add fiber to sandwiches. Make sure the bread you buy says it is 100-percent whole wheat. Use the same fillings your family normally loves, such as deli meats and cheeses, or add extra fiber with hummus or cream cheese and vegetables. Change things up even more by using a whole wheat pita or tortilla to create a healthy high-fiber rolled sandwich.
Baked Potatoes
A whole baked potato is packed with fiber, especially the potato's skin, where most of the fiber is located. Cook baked potatoes quickly in the microwave and let your family members dress them however they see fit. Set out butter, sour cream and grated cheese for topping potatoes, or salsa if your family's taste buds are up to the challenge. Sprinkle some lightly steamed broccoli on top of the potatoes for an extra boost of fiber.
Bean Dishes
Base a meal around a can of beans and you'll wind up with a high-fiber lunch. Stuff whole wheat or corn tortillas with canned black beans, sour cream and cheese for an easy-to-eat, fiber-filled lunch. Or make a bean salad by tossing canned beans with chopped vegetables and your family's favorite salad dressing. Create a high-fiber, hearty homemade soup by simmering canned beans and vegetables in a prepared chicken broth.
Pizzas
Pizza doesn't have to be an unhealthy treat. Make simple lunch pizzas by starting with a whole wheat pita round, tortilla or bagel. Top the bread with jarred tomato sauce, then sprinkle the sauce with grated mozzarella cheese. Add mushrooms on top, if your kids will eat them, for extra fiber. Pop the pizzas in the toaster oven or microwave for a minute or two and serve them warm. Serve a leafy green salad on the side for an added dose of dietary fiber.
References
Resources
Writer Bio
Leigh Good has been writing for magazines and newspapers for more than 10 years. Her work has been published in numerous print and online publications. Good has a bachelor's degree in print journalism from Georgia State University.
Photo Credits
Jupiterimages/Photos.com/Getty Images