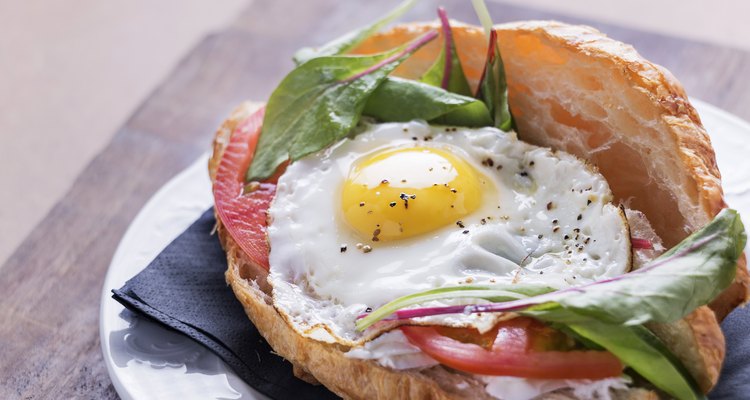 avi_gamliel/iStock/GettyImages
If you need to provide a low-fiber diet for someone in your family, because of surgery or illness, you don't have to serve bland, flavorless mush at every meal. And you don't have to make a separate meal for everyone else in the house. Preparing tasty food that is also low in fiber doesn't have to be extra work. Make things easier on yourself by making a few minor changes in your meals.
Breakfast
Serve the same fruit juice that you give your family every morning — as long as the juice is pulp-free. Spread creamy, not crunchy, peanut butter on sliced, toasted white, not wheat, bread to give kids a protein-packed breakfast that is low in fiber and easy on you. Cereal and milk is fine, too, but read the labels to ensure that the cereal has no more than 1 g of fiber per serving.
Lunch
Serve up a healthy low-fiber lunch of simple sandwiches. Sliced deli meats and cheeses are fine on a low fiber diet, as long as you sandwich them between two slices of white bread and leave off the lettuce and tomatoes. Eggs offer a low-fiber protein punch, too, so hand out some hard-boiled eggs to your family at lunch time to keep their energy levels up. Add some flavor to these simple low-fiber lunches by using a creamy dressing in place of mayonnaise.
Snacks
Offer pretzels and plain crackers as snacks. Add a small amount of cheese for some calcium. Packaged fruit cups make handy go-to options for little ones who are on a low-fiber diet. Tender slices of honey dew, cantaloupe or well-ripened banana are also a healthy, sweet snack that is low in fiber. With any fruit choice, serve only small amounts to individuals following the low-fiber diet.
Dinner
At dinner time, focus on lean, healthy proteins. Serve up baked chicken breasts, steamed fish or a lean cut of tender beef. Keep them juicy and flavorful by marinating them in a low-fiber creamy dressing. Offer any well-cooked or canned tender vegetables without seeds or skins, such as steamed green beans and carrots, to get important vitamins and minerals into your kids without adding large amounts of fiber to their diets. Plain, white rice or noodles is an easy side dish that can fill bellies without giving too much fiber.
References
Resources
Writer Bio
Leigh Good has been writing for magazines and newspapers for more than 10 years. Her work has been published in numerous print and online publications. Good has a bachelor's degree in print journalism from Georgia State University.