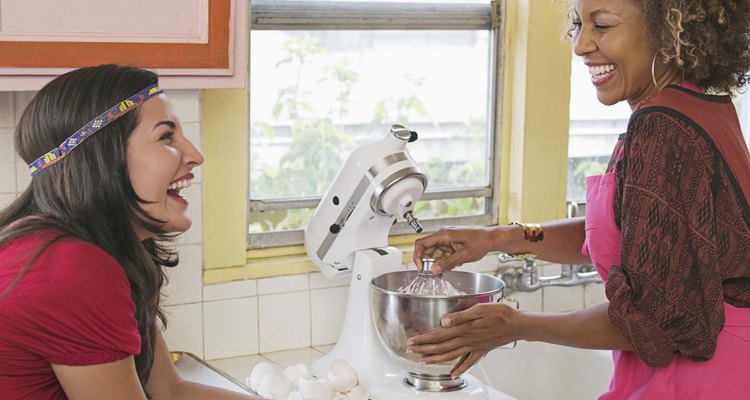 Jupiterimages/Brand X Pictures/Getty Images
You might be tempted just to order a pizza next time you need to feed a group of teens. Instead, try fast and healthy meal ideas that will nourish growing bodies and delight teenage palettes. Focus on wholesome ingredients to prepare a fresh, nutritious and tasty meal that even the pickiest teenagers will enjoy.
Step 1
Choose a meal that delivers the nutrition teens need in the form of their favorite foods. Because most teenagers are still growing, they need meals that deliver adequate calories, along with a balance of proteins, carbohydrates and calcium for healthy bones. Take note of your teen's specific allergy concerns and food preferences as you decide what to cook.
Step 2
Put a healthier spin on teens' favorite foods by swapping refined white breads and pastas for whole grain varieties and adding plenty of fresh vegetables to your meal. Buy pre-sliced veggies to add to soups, pastas and sandwiches for an easy, quick way to get teenagers to eat vegetables at every meal. Keep the veggies and light ranch dressing within easy reach in the refrigerator for a quick and healthy snack option.
Step 3
Because active, growing teens -- particularly teen boys -- often need to eat larger portions of food, think of healthy ways to stretch meals without breaking the bank. Add canned lentils or beans to a batch of taco meat, chili or spaghetti sauce for an easy way to stretch meals for your hungry teens while still delivering plenty of protein.
Step 4
Focus on including sources of calcium in your meals as well. Teenage girls, who are at risk for developing osteoporosis later in life, need to consume plenty of calcium in their adolescent years. Keep pouches of low-fat shredded cheese for teens to sprinkle on top of their meals for a tasty, easy way to boost calcium intake. Yogurt with fruit makes a smart dessert choice for teens, while good drink options include low-fat milk and fortified soy milk.
Step 5
Prepare quick, healthy snacks and side dishes for active teens to eat on the go. If your family squeezes meal times between school, sports practices and other activities, providing extra portable snacks can help teens meet their nutritional requirements even if you run out of time at the dinner table. Serve easy-to-peel vitamin-rich clementine oranges or bananas with dinner that teens can grab and take with them when they've finished their main course. Other easy snack options include bags of mixed nuts, low-sugar granola bars, or calcium-packed string cheese.
References
Writer Bio
Sarah Badger is a certified pilates and group fitness instructor, writer and dance teacher. Her work has appeared in "Dance Spirit" magazine and several literary journals. Badger earned her bachelor's degree in English and religious studies from Marymount Manhattan College, and currently owns a dance and fitness studio in upstate New York.
Photo Credits
Jupiterimages/Brand X Pictures/Getty Images