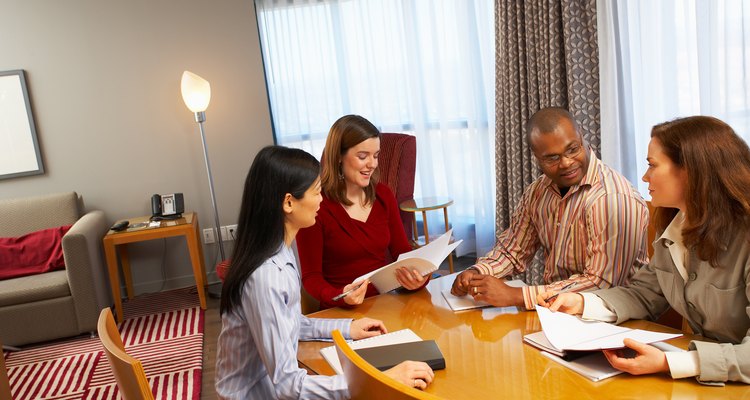 Photos.com/Photos.com/Getty Images
Mentoring youth provides a powerful way to impact the life of a young person. Many teens need the positive influence of someone who believes in them and who is willing to spend time helping them grow and learn how to be successful in life. Building a youth mentoring project entails setting goals, recruiting volunteers and enticing youth to enter your program.
Recruiting
Program staff discusses methods of recruiting and desired characteristics for mentors and mentees. Staff members provide information from Jean Rhodes' book "Stand by Me: The Risks and Rewards of Youth Mentoring" that demonstrated that program benefits increase when the mentor/mentee relationship extends beyond one year. Recruiting paperwork asks for at least a one-year commitment to maximize the impact of the mentoring relationship. Staff members, sponsors and potential volunteers discuss recruiting strategies, ways to recommend potential volunteers and ideas to encourage individuals and sponsors to commit to the program.
Building Relationships
Mentoring revolves around the relationship between the mentor and the mentee. Volunteer mentors discuss ways to build relationships between themselves and the youth in the program. One-on-one relationships work best, according to Rhodes. Mentoring staff work to carefully pair the right mentor with the right youth. Mentors discuss ideas to encourage the mentee to set goals and commit to the program. Mentors discuss types of training they need and types of training and support to offer to youth.
Measurable Program Goals
Sponsors contributing funds and volunteer hours to the program want to see program goals that benefit youth. Staff and mentors discuss measurable goals they can use to demonstrate program effectiveness. Ideas for these goals include improved academic skills, improved job skills, fewer missed school days, fewer problems with drugs and delinquent behaviors, more productive behaviors demonstrated and more teens planning for the future. Sponsors discuss additional ideas demonstrating positive program results and ways employees can work with the program.
Youth Discussions
Mentees discuss ways they benefit from the mentoring program and how they demonstrate personal responsibility as a marker of program success. Additional discussion topics include suggestions for mentors working with youth, possible training seminars youth benefit from and ways to recruit other youth into the program. Youth discuss concerns they have for siblings who could benefit from entry into the program and ways to involve parents as a positive impact on the siblings through involvement with the program. Mentees discuss ways they support each other and ways to improve community impact. Youth with more than a year in the program discuss ways they can peer mentor, thus increasing the impact of the program.
References
Resources
"Stand by Me: The Risks and Rewards of Youth Mentoring"; Jean Rhodes; 2004
Writer Bio
Rev. Kathryn Rateliff Barr has taught birth, parenting, vaccinations and alternative medicine classes since 1994. She is a pastoral family counselor and has parented birth, step, adopted and foster children. She holds bachelor's degrees in English and history from Centenary College of Louisiana. Studies include midwifery, naturopathy and other alternative therapies.
Photo Credits
Photos.com/Photos.com/Getty Images