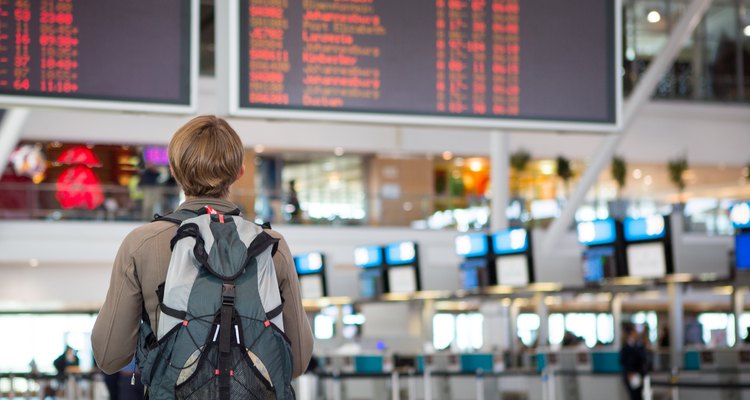 Students can gain valuable knowledge by spending time in another country, especially if they are trying to become fluent in that country's language. Many choose to do so through foreign exchange programs organized by a high school, university or language program. If you're looking to supplement your income, you can make some money hosting these students in your home.
Finding Student Exchange Programs
To begin the process, research various student exchange organizations and programs to find the best fit for you. There are several ways to host a student in your home. The U.S. Department of State organizes exchange programs for high school students by giving them scholarships. If you volunteer to host a student through the U.S. Department of State, you won't get paid, but you will be able to claim a $50 tax deduction for each month you host a student.
Various companies and organizations also facilitate foreign exchange experiences. For example, the American Homestay Network helps college students, high school students and English-language learners find academic programs and host families across the country. As a host, you're paid for providing meals, housing and other accommodations to students; payment varies by geographic location.
If you live near a college or a university, you can rent out rooms in your home to international students. You can contact local language schools to see if they need host families. Services such as Roomdock conduct credit and background checks on students, collect rent payments and offer translation services to make your experience as a landlord easier. You can choose how much rent to charge an international student for staying in your home.
With the right credentials and experience, you may be able to earn money by hosting foreign students and teaching them English in your home. Services such as Lingoo connect certified language teachers with students seeking an immersive language experience.
Understanding Exchange Visas
It's important to understand the difference between the types of visas issued to foreign exchange students, as this can have an impact on whether you get paid for hosting them. In most instances, host families are not paid for hosting students with J-1 visas. Students with these visas come to the United States for specific public diplomacy programs sponsored by a state department organization. Since the goal of these programs is to foster mutual education and trust between Americans and international visitors, compensation is not allowed. Families who host students with F-1 visas student visas typically receive a monthly stipend. The amount varies based on geographic location and the program the student selects.
Is Hosting a Foreign Exchange Student Right for You?
There are many factors to consider when determining whether hosting a foreign exchange student is right for you. According to the U.S. Department of State, host families live in all types of environment, ranging from rural farms to large cities. Similarly, the makeup of host families varies greatly. Some host families have young children, whereas other host families are retirees with grown children who do not live in the home.
In general, hosts must be able to provide a safe environment for students that includes a bed, a study area and three meals a day. Foreign exchange students typically have their own health insurance and bring spending money for activities, school functions and other costs. Keep in mind that some exchange students may not be able to drive, so consider whether you'll be available to give them rides or if there are public transportation options in your area. You will have to orient the student to their new surroundings and show them how to make their way to school each day. You may also be expected to include them as part of your family, which could mean helping them in the evenings and inviting them along on family outings on the weekend.
It's also important to check with your landlord and your home insurance provider before hosting a foreign exchange student.
References
Resources
Writer Bio
Sarah Kuta is a former newspaper reporter and is now a freelance writer and editor. She writes about education, personal finance, travel, health and wellness, fitness and more.