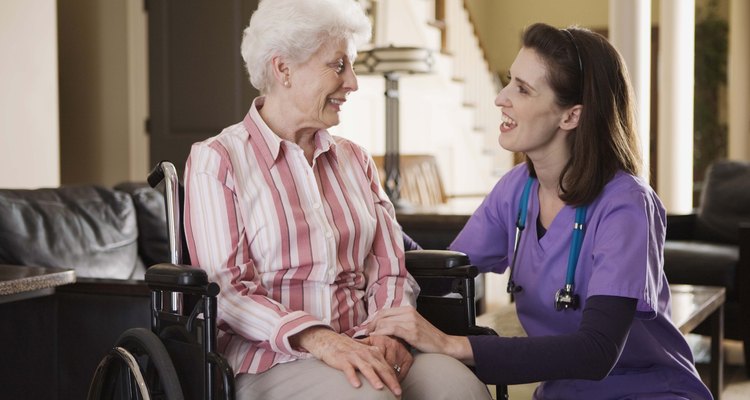 Jupiterimages/Brand X Pictures/Getty Images
Many people choose to care for a disabled adult in their homes because they can monitor their loved one, maintain their family relationship, and in some instances, it may be less costly. Nevertheless, caring for a disabled adult at home can be expensive, time-consuming, and difficult. Taking advantage of programs that can make the process easier often make the difference between your ability to care for the disabled adult at home or choosing alternative care.
Federal Funding
There are many federal programs for disabled adults living at home. According to the Social Security Administration, blind and disabled people may qualify for supplemental social security, which can provide funds to help them with living expenses. Additionally, receiving supplement security allows you to remain eligible for state program that can assist with food, care, and perscription money assistance. The federal government also has a program providing grants to qualifying veterans who are at home and disabled.
Disability Organizations
The National Muscular Sclerosis Society (mda.org) offers grants for equipment that can make it easier to care for the disabled. Often you will not want to leave an adult with a disability alone. For example, the Disabled Persons Action Organization (www.dpao.org) raises money through concerts. It has a Medicaid coordinator and it offers a variety of services including family support, family vouchers, and respite care to residents living in Jefferson and Lewis counties in New York.
Hospice Care
Adults with disabilities may qualify for hospice in-home care through Medicaid or private insurance. Hospice care is designed to make the disabled person comfortable. Hospice benefits range from nurse visits, help with errands, pet therapy, family support, and other benefits. Criteria for hospice care may vary, but recipients usually must be diagnosed with a terminal illness or disability, and are expected to die within a specified time period. Hospice care may also provide respite care, which provides on-site accommodations if there is no one to care for the disabled adult for a temporary time period, the family needs a vacation or the disabled adult is transitioning to on-site care.
Volunteer Services
Volunteer programs can help care for an adult with disabilities at home. Community, government, and church programs exist that have volunteers on-call to assist by providing companionship or assistance with errands and housekeeping. Some schools also have community service organizations that can provide similar assistance.
Local Programs
Each state offers its own local programs and support. Programs range in services, but often include funding for aides or nurses, transportation, meals, and other essentials . Government funding may be available for home modifications that will help an adult with a disability remain at home. For example, according to EHLS, Chicago offers a HomeMod program that provides funding to make homes more accessible to disabled residents.
References
Photo Credits
Jupiterimages/Brand X Pictures/Getty Images