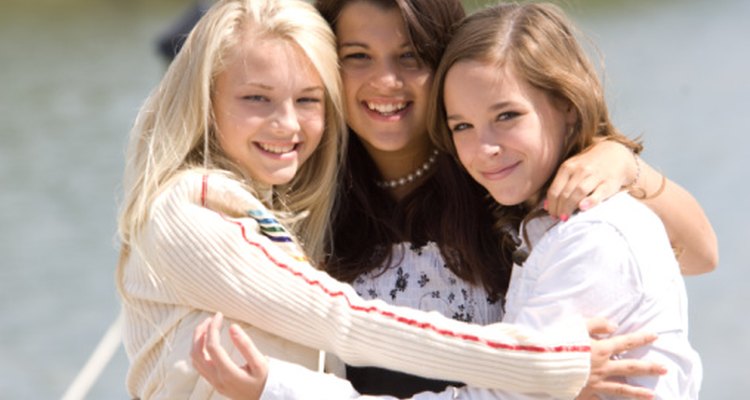 Jupiterimages/Photos.com/Getty Images
Youth ministries give girls opportunities for enjoyable and meaningful fellowship. Through discussions and recreational activities, members grow in biblical knowledge while learning more about their own lives. Being a part of outreach projects opens their eyes to the world around them and can increase their sensitivity to others. Keeping group attendance up and energy high calls for a creative approach to planning; it also requires using available expert resources along with the girls' suggestions.
Theme Nights
Food-centered evenings can bring girls together over desserts, fine chocolates, pizza or soup and bread. Scrapbooking and other crafts allow them to be creative and bring home a souvenir. Scripture can be combined with a fun activity, like an evening of free facials and makeovers leading to a study of Esther and what true beauty means.
Opening Activities and Games
"Who am I?" is a fast-paced way for girls to meet each other while figuring out which Bible character is posted on their backs. (Girls look at each other's notes on their backs and answer questions that lead to hints about a character's identity.) Through "Pocket Pow-wow," a random item pulled from a purse or jeans can lead to sharing and bonding in a group. Playing games like "Light in the Darkness" -- where participants who find a lighted cross help others to reach the goal -- often leads to meaningful discussions and Bible study.
Service Projects
Helping fellow church members and reaching out to the community can be a crucial part of girls ministry. Gathering contributions for the food pantry, making meals for families in need and delivering gift baskets for shut-ins are ways a group can work together for the good of others. Participation in walk-a-thons and various fundraisers for charities that benefit women puts faith into action, and shows girls they can make a positive difference in the world.
Other Ideas
Weekend retreats often have long-lasting effects, especially if attendees help plan and organize them. If going away is not an option, hosting a guest speaker for the young women can generate extra excitement. Use books like "Confessions of a Non-Barbie" by Kinda Wilson and "PB&J Dating" by Hayley DiMarco as materials that can open honest discussions about issues girls face.
References
Writer Bio
Heather Adams started writing professionally in 1989, working as a reporter for a regional newspaper. She has also created educational skits and classes that have been used locally and internationally. Adams holds a Bachelor of Music from the Hartt School at the University of Hartford.
Photo Credits
Jupiterimages/Photos.com/Getty Images