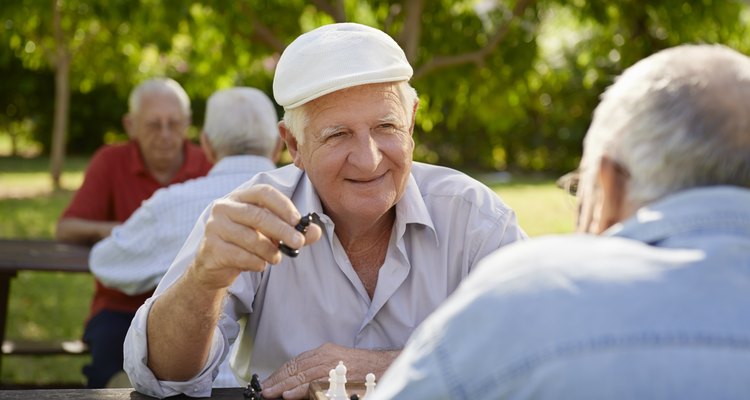 diego cervo/iStock/Getty Images
Keeping active is good for seniors' physical and mental health. Additionally, experts suggest that social interactions, especially face-to-face time with family and friends, help the elderly fight depression. Having meaningful social interactions may even improve longevity. Stimulation, engagement and purposeful activities also may help seniors live longer lives. When the senior in your life needs indoor activities because of health issues, limited mobility or the weather, you can find diverse indoor activities that offer meaningful social interactions.
Cooking New Recipes
Cooking is an indoor activity for seniors that helps keep the brain sharp while making the body stay active. Cook favorite family recipes together as a way to bond. Organize weekly cooking sessions with a group of local elderly people. Invite a different person each week to decide what to cook. It's a good way for elderly friends to socialize and share their favorite recipes. Another way to encourage social interaction is to make several batches of food and deliver them to neighbors or other seniors in the area.
Taking an Art Class
Through a combination of creativity and socialization, art classes offer fun activities for elderly people. Art museums, community organizations and senior centers often host classes covering many formats, including painting, pottery, drawing and mixed media. Making art is creative and open-ended, so seniors can make things without feeling as if only one way is the right way. It's also a good way to use fine motor skills. If you can't find local art classes, organize your own at your elderly relative's house.
Hosting Interest Clubs
Elderly people sometimes stop doing their favorite things. Encourage your loved one to continue hobbies by hosting interest clubs at home. Examples include game nights, book clubs, quilting clubs, gardening clubs and scrapbooking groups. You can create a group around any interest. Consider tailoring the group to match a certain need. For example, you might organize an audiobook club for your loved one and others with vision issues. Schedule regular meetings to give the elderly members plenty of socialization opportunities.
Doing Charity Work
Many volunteer activities keep elderly people active and give them a sense of purpose. For elderly people who are physically able to get around, look for on-site volunteer opportunities such as reading with kids at a school, packing meals for a charity or sorting clothes at a shelter.
Homebound seniors can do charity work at home. Many organizations accept items like homemade blankets or get well cards. Invite a group of elderly people over to work on the charity project for a meaningful way to socialize.
Exercising With a Group
Physical activity minimizes arthritic joint swelling and pain, reduces the risk of falls, helps lower blood pressure, reduces the risk of certain diseases and minimizes depression in older adults, among other benefits. Elderly people often cut down on physical activity or stop exercising completely. Help your elderly loved one enjoy the benefits of exercise.
A group exercise setting keeps seniors motivated and makes exercise more enjoyable. Many gyms and senior centers offer low-impact exercise classes designed for the elderly. For seniors on a limited budget or confined to home, invite a group of other seniors to an in-home exercise session. You can create your own workout or use an exercise DVD designed for seniors.
References
Resources
Writer Bio
Shelley Frost writes professionally on a full-time basis, specializing in lifestyle, family, parenting and relationship topics. She holds an education degree and has extensive experience working with kids and parents.
Photo Credits
diego cervo/iStock/Getty Images