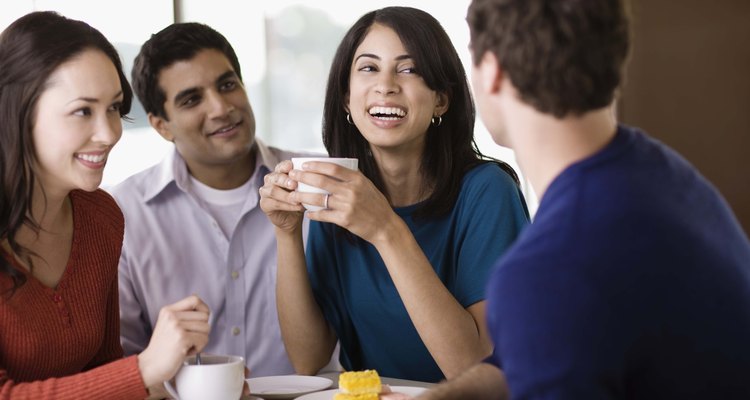 Jupiterimages/Brand X Pictures/Getty Images
Find friends to share your time with and enjoy a sense of belonging that sends loneliness packing. People are hardwired for relationships and community. We are built to feel fulfilled through connection, and everything from our mental health to our physical health benefits when we do. Whether you enjoy deep and meaningful conversations or prefer to laugh and let loose on a Friday night, take some intentional steps to get involved in your community, and find friends that bring you joy and help make your life feel more complete.
Community Events
Many towns and cities provide a calendar listing of local events. Check online or give a call to your local chamber of commerce to find out what is going on. Depending on the time of year, you could find theatrical productions, art exhibitions, festivals, concerts, open mic nights, book clubs and more. Choose to attend events that mesh with your interests, and make a point of starting conversations with those around you. Swap business cards with other artisans, or stand next to the mother with children the same age as yours.
Volunteering
Volunteering unites people of all ages and stages of life around an issue or need that is important to everyone. Check with your local hospital to find out about volunteering with the senior group during the day or with teens in the evening. Sign up for a service slot at the local free clothing store or food pantry. Serve food at the soup kitchen, or go through training and a background check to mentor women and children at your local safe home. Some communities also offer volunteer fire departments or search-and-rescue groups that would be happy to have an extra set of hands to help serve the community.
Classes and Interest Groups
Classes and interest groups are an excellent way to find people you have something in common with. Websites like Meetup facilitate local get-togethers around almost any personal interest you can think of. Check for local community education classes in the arts, book clubs, community sports leagues, foreign language groups, international studies groups and more. Sign up for a class at your local community college or university. Offer to start a discussion or study group to get to know people better. Sign up to help with a community theater production, or join a local band or orchestra.
Stages of Life
Every stage or season of life is unique in its own special way. Connect with others who are in a similar place, and you are sure to have lots to talk about. Teens can check out a local youth group or the Boys and Girls Club. Young adults can look into singles groups or groups for young married couples. Young parents might join a support group for parents of preschoolers or get involved in the school PTA. Home-schooled students and parents benefit from educational cooperatives or recreational groups. Senior citizens find a wealth of classes, gatherings, meals and resources at the local senior center. Start by contacting your local school, chamber of commerce or senior center to find out what is available near you. Ask in local groups on social media, and check out the groups and meetings that people seem most fond of.
Spiritual Life
If you are a spiritual person, you might need to look no further than your place of worship to find friends you enjoy being around. Attend services, sign up for an evening small group or join the choir. Volunteer to help cook community dinners, host a youth group event or be part of an upcoming holiday play. Some churches also host book clubs, food pantries, homeless shelters and other services or events. Talk with your spiritual leader to find out where to start.
Support Groups
If you are going through a difficult time of life, sometimes a support group is a wonderful way to meet people who have overcome similar difficulties and to form deep friendships that are likely to last. Check out local 12-step groups, depression support groups and grief support groups. The United Way maintains a listing of many resources in your area and should be able to point you in the right direction.
References
Resources
Writer Bio
Anne Kinsey is a Certified Trauma Recovery Coach and missionary, residing in rural North Carolina. She is the founder of Love Powered Life, a nonprofit organization with the mission of creating loving community for trafficking survivors and their families. Anne has enjoyed writing for publications like Working Mother, the San Francisco Chronicle, the Houston Chronicle, Bizfluent and Career Trend. She resides in rural North Carolina with her husband, three children and a house full of furry friends.
Photo Credits
Jupiterimages/Brand X Pictures/Getty Images