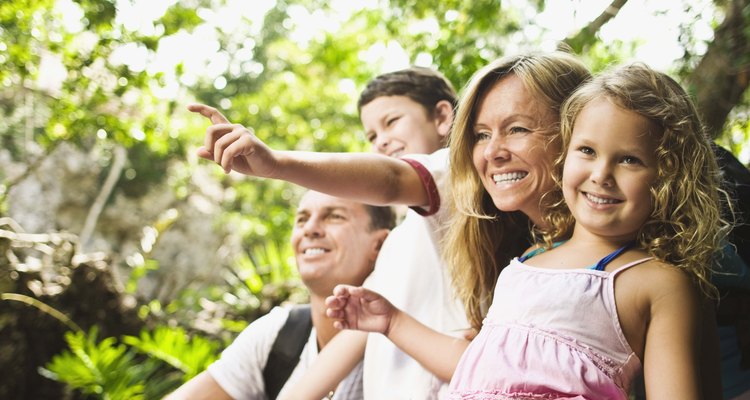 Jupiterimages/Stockbyte/Getty Images
Family involvement activities do much more than simply getting volunteers to the school bake sale. Family involvement can build a child's emotional, social and even academic development, according to the National Alliance for Secondary Education and Transition. If you are interested in family involvement activities but are unsure as to how, understanding the options -- both in and out of school -- is key.
Class Act
The Michigan Department of Education notes that volunteering in the classroom is one way parents can involve themselves in their children's education. Volunteer your family to help with games, treats or simply chaperone. If you don't have much time, help at a school holiday party. This will show your child how much you value her and her education. If you have a special talent, knowledge or interest, use this to head up a lunch club or after-school activity. For example, if your family enjoys drawing or painting together, offer to head the school's art club.
Taking Trips
Although your child may find it challenging to hold back his excitement at the thought of a day spent away from school on a field trip, his teacher can't handle the entire class alone. Family involvement comes into play when teachers ask the moms and dads to come along as chaperones. This allows you to spend time with your child in a school-related activity that is also educationally entertaining.
Helping Hands
Family involvement activities aren't always school related. You can spend quality time with the kids while helping your community at a soup kitchen. Service activities can bring a family together, according to the KidsHealth website. If you don't have the time, consider engaging your brood in a few select projects. For example, help out with a neighborhood park clean-up, collect and bring canned goods to a local food bank or walk dogs together at a community animal shelter.
Family Rituals
Rituals help families to bond, according to the HealthyChildren website. For example, if your children are athletic or enjoy sports, start a weekend family baseball game or have monthly basketball games. Although you can choose more complex family rituals, such as taking a monthly trip to the art museum, you can also opt for simple activities. Something as basic as reading to your children each night or singing a special song before bedtime can turn into rituals you share together.
References
Writer Bio
Based in Pittsburgh, Erica Loop has been writing education, child development and parenting articles since 2009. Her articles have appeared in "Pittsburgh Parent Magazine" and the website PBS Parents. She has a Master of Science in applied developmental psychology from the University of Pittsburgh's School of Education.
Photo Credits
Jupiterimages/Stockbyte/Getty Images