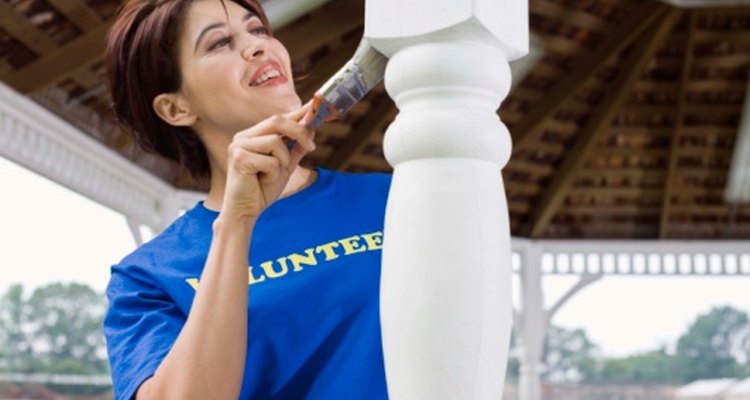 Jupiterimages/Creatas/Getty Images
Group projects build community goodwill and a spirit of togetherness for all who participate. The efforts also have practical applications by helping with work on the local level that may not be completed due to lack of funding or interest by remote agencies. Some projects have concrete results, such as helping community members to improve educational skills or providing goods and services directly to local families who may not qualify for state or federal assistance programs.
Food-Related Projects
The poor and the elderly who may have money but lack transportation to stores offer communities a focus for volunteer projects. Community food banks, food cooperatives and programs, such as the Meals on Wheels Association of America, use volunteers to provide meals to seniors and shut-ins. Food programs may also involve animal care. Community outreach programs, sometimes associated with senior centers, provide a chance for volunteers to deliver pet food directly to the pet owner, when transportation is unavailable to the pet caregiver. Neighborhood programs at local churches, branches of the Salvation Army, and outreach programs that feed the poor at local cafeterias also use volunteers.
Tutoring & Education Projects
Tutoring and education provide the focus areas for other community projects. A program might help at schools during lunch or snack time or assist the school librarian or computer-room technician. Community assistance projects also provide subject-area tutoring or mentor volunteering for young children without a parent to influence them. Local branches of Big Brothers and Sisters provide mentoring services in communities. Local library programs assist in reading programs or helping to re-shelve books. Community library volunteers may also tutor after school at library branches. Adult volunteers with computer skills may be organized into groups to volunteer at local schools to train students in one-on-one programs to learn to research using the Internet. Community health and fitness programs also work at schools to improve children's diet choices, encourage formal exercise and provide supervision for students to exercise at recess time or in after-school sports and recreation activities.
Safety Projects
Community safety projects work to assist local law enforcement, fire fighters or the community Federal Emergency Management Agency in efforts to coordinate branches of the Community Emergency Response Teams. These groups help prepare the community for natural disasters, including floods or extreme summer or winter temperatures, and respond in actual disasters. Other community safety projects include working as a coordinator for the Red Cross or American Heart Association to train community members in first aid, CPR or the use of defibrillators.
Beautification Projects
Beautification projects provide a focused community effort to complete a single project in a specified period of time. You might paint park structures and bandstands, plant and weed public gardens and beautify road medians—all projects that use a large number of volunteers in a concentrated effort focusing on a single goal. The Arbor Day Foundation helps communities organize projects around the April day that focuses on planting trees. Other community groups, including Key Club International programs at local schools, develop projects to help with neighborhood improvement. These groups organize paint and cleaning projects for seniors unable to care for residences.
References
Resources
Writer Bio
David B. Ryan has been a professional writer since 1989. His work includes various books, articles for "The Plain Dealer" in Cleveland and essays for Oxford University Press. Ryan holds degrees from the University of Cincinnati and Indiana University and certifications in emergency management and health disaster response.
Photo Credits
Jupiterimages/Creatas/Getty Images