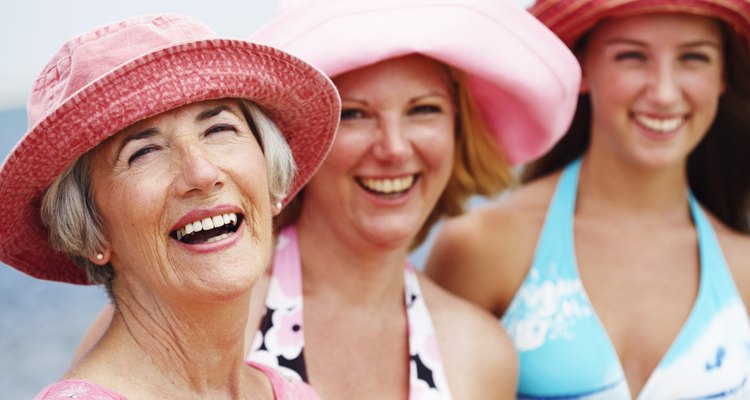 Jupiterimages/Creatas/Getty Images
Skip the shopping mall and leave commonplace gifts on the store shelves this year. Show your mom how much she is loved by celebrating her 65th birthday with a gift outside the ordinary. If she already seems to have everything she needs, opt to give your mom an experience to create memories that will last a lifetime.
Sentimental Photos
A picture is worth a thousand words, so tell your mom how much you love her on her birthday with a handmade scrapbook full of pictures from her favorite childhood, adulthood and parenthood memories. Alternatively, create a family photo shirt for your mom. Draw or print a tree branch that wraps around the midsection of the shirt and then print and iron-on pictures of family members shooting off the branch like leaves to represent her branch of the family tree. Or, you can help your mom celebrate her beauty at 65 with a private, glamour photo shoot. Arrange for a professional hair and makeup session, have the photographer work with your mom to capture the types of photos that interest her most, and then have a few photos taken together to share the experience.
New Pursuits
Help your mom stay busy and active by spending time together, exploring new areas of interest. Pick up a brand new camera for your mom and enroll the two of you in a photography workshop to learn how to use the new equipment together. Alternatively, purchase a pair of tennis racquets and sign up for tennis lessons every Saturday morning. Instead, you might surprise your mom with a gourmet cooking class or pastry program to make culinary masterpieces together, or take up golf together if your mom always wanted to learn. If you can't commit to regular classes together, surprise your mom with supplies she'll need to try out new activities at home, such as pottery making, watercolor painting or woodworking.
Time to Relax
You can also help you mom celebrate her birthday with a relaxing gift. Create a gift basket full of her favorite bath goodies such as bath oils and bubble bath, moisturizers and facial treatments. Invest a little extra effort to make the gift more personal with some all-natural, homemade treatments. Instead, you might want to pick up a gift card for treatments at a local spa, or make it a mom-and-me day by booking treatments for the both of you. Or, plan for a movie night together. Fill a basket with movie goodies, such as popcorn, candies and a collection of her favorite flicks -- one of her top picks from every decade of her life.
Bon Voyage
Help your mom make her 65th birthday memorable by surprising her with a celebratory vacation. You can plan a simple weekend getaway at a nearby bed and breakfast or spa retreat -- make it a girl's weekend to create some new memories together. Alternatively, use your mom's interests as a guide to the perfect vacation surprise, such as a trip to a ski resort for a winter sports enthusiast or a vacation sun-lover's vacation at an all-inclusive resort in the Caribbean. If your mom loves the ocean, surprise her with a cruise, from a 3-day weekend cruise to the Bahamas to a month-long European endeavor. For a youthful mom, take a weekend road trip together and endeavor to make 65 stops along the way to commemorate her birthday.
References
Writer Bio
Rosenya Faith has been working with children since the age of 16 as a swimming instructor and dance instructor. For more than 14 years she has worked as a recreation and skill development leader, an early childhood educator and a teaching assistant, working in elementary schools and with special needs children between 4 and 11 years of age.
Photo Credits
Jupiterimages/Creatas/Getty Images