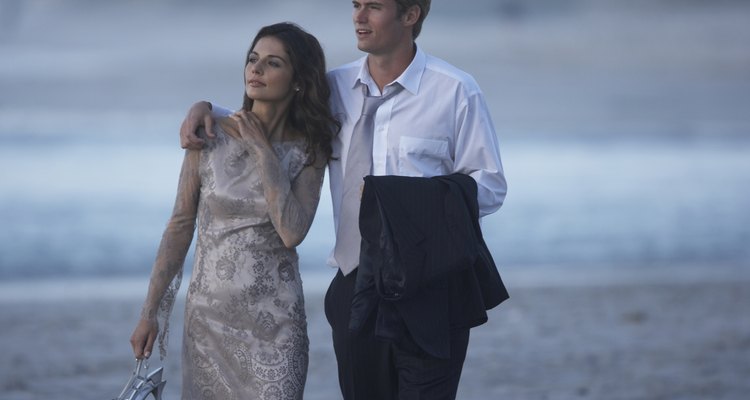 Goodshoot RF/Goodshoot/Getty Images
If you've been to the movies, played a few rounds of miniature golf and visited your fair share of restaurants together, it's probably time for some fresh and fun activities to keep your girlfriend entertained during your next date. Whether you're planning your fifth date or 50th, use your mutual and individual interests as a guide to an afternoon or evening that she won't forget.
Something Old
Let your girlfriend know just how well you've gotten to know her with an activity from her childhood. You can take her to a cherished childhood place, such as a campground, fishing spot or restaurant, or you can swing on the swings and slide down the slide at the park she used to visit most. Alternatively, give something a try that she hasn't done in ages, such as roller skating, visiting a local arcade, drawing with sidewalk chalk or buying cones from the ice cream truck. You can visit an amusement park and ride every kiddie ride she braved as a child, or, if you can't get out, get adventurous and bring out the child within at home; cover the stairs with large sheets of cardboard to slide down or build a fort together in the middle of your living room with couch cushions and blankets. Afterward, prepare the meal she remembers most from her childhood and dine in your hideout.
Introductions
Let your girlfriend get to know you a little better by introducing her to your own hobbies and interests. If you're an avid woodworker, show her some of your favorite projects and then introduce her to some simple woodworking techniques to make her own craft. If you play an instrument, serenade her with your best performance and then give her a little introductory lesson. You can pick up matching helmets for a mountain biking trip or take her to the local skateboard park and teach her how to stay upright. If you're a gardening enthusiast, invite your girlfriend to help you out in the yard while you teach her about planting and pruning.
Something New
Entertain your girlfriend by bonding over something new together. You can sign up for a weekend workshop in photography or water color art or enroll in a class together to learn martial arts, graphic design or even pottery making -- think of all the knickknacks you'll have for the shelves. If you would rather find something that doesn't require a weekend or months-long commitment, look for an activity that neither of you have tried before so you can try it together. You can take a daredevil girlfriend white water rafting, rock climbing or paragliding or take a nature-lover for a walk through a conservation area you've never visited before.
Favorites
Treat your girlfriend to an afternoon or evening of indulging in all of her favorite things -- or at least one or two of her top picks. View her favorite artist's work together at an art gallery or pick up tickets to see her favorite band. You can take her to her favorite store -- even just to window shop -- or visit her favorite beach for an evening stroll or a sandcastle-building competition if she's the competitive sort. If your girlfriend is an animal-lover, wander around the zoo together while debating which animal would make the best or most outrageous pet. If you're entertaining on a budget, you can prepare your girlfriend's favorite meal at home or spend an evening in with an all-night movie marathon of her favorite films -- including the chick flicks.
References
51 Amazing Date Ideas; J.P. Davidson; 2009
Writer Bio
Rosenya Faith has been working with children since the age of 16 as a swimming instructor and dance instructor. For more than 14 years she has worked as a recreation and skill development leader, an early childhood educator and a teaching assistant, working in elementary schools and with special needs children between 4 and 11 years of age.
Photo Credits
Goodshoot RF/Goodshoot/Getty Images