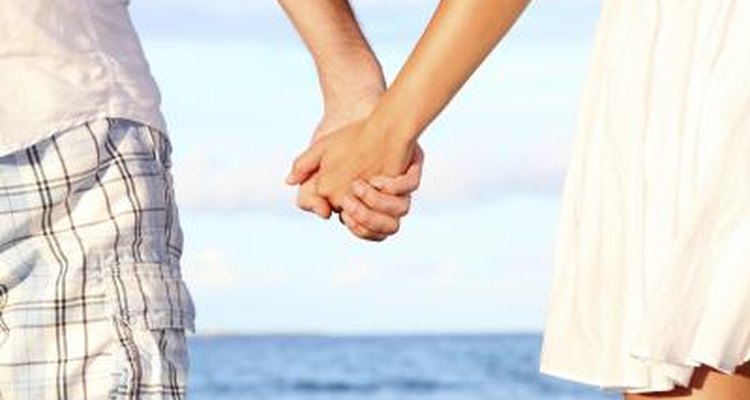 Maridav/iStock/Getty Images
Your girlfriend may enjoy your company, but dinner and a movie can get boring after a while. If you're looking for new places to take your girl out on a date, consider her personality and interests. There are many exciting date-worthy places that offer adventure, education, laughter and romance. These fun places may also give you the chance to discover new things about each other and strengthen your bond.
The Beach or Park
If your girlfriend likes fresh air, take her outdoors. On sunnier days, if you live near a beach, take her for a fun game of Frisbee or a quick swim. Build sand castles or bury each other in the sand. Stay to watch the sunset, dating coach Neil Ward suggests in "Fun Date Ideas Day" on his website Top-Dating-Coach.com. If you don't live near a beach, visit a nearby park for a relaxing stroll and an outdoor picnic.
Art Gallery or Museum
For a more cultured date, an art gallery or museum can be informative and educational. Look up what exhibitions are on and see if you think anything would intrigue her. Make sure they are displaying something that she would find interesting or the date could end up being boring, Ward warns. You may learn new things about the world, including new things about your girlfriend.
Zoo or Aquarium
Buy tickets to your zoo or aquarium for you and your animal-lover girlfriend. She will enjoy taking in information about wildlife and have a blast taking pictures alongside them. Look up the exhibits and all that your zoo or aquarium have to offer so that you can plan your date, suggests matchmaker Samantha Daniels in her blog "Matchmaker In the Know."
The Fair or Amusement Park
Take your fun-spirited girlfriend to an amusement park. The rides offer a chance for screams and laughter, but she doesn't have to like roller coasters to enjoy the amusement park. Win a prize at the game booth or enjoy the snacks at the concession stands. Take advantage of live entertainment and music for an added concert experience.
The Arcade, Laser Tag or Paintball
Get competitive with your girlfriend. Take her to an arcade and challenge her to all the games. For more active games, consider taking her to laser tag. The glow-in-the-dark atmosphere can add a fun element to the competition. If your girlfriend is up for it, play paintball. Getting hit may leave bruises, so make sure your girlfriend won't mind.
The Mountains, Lake or Ocean
An outdoorsy, athletic girl will want to go to the mountains, ocean or forest. In warmer weather, go to the lake or river to go kayaking and enjoy the scenery. If you have access to a mountain, go for a hike and stop to enjoy the view at the top. In the winter months, take her to the mountains for skiing or snowboarding. This could be something you learn together. If you don't live near a mountain, an indoor rock climbing gym can be an alternative. Learning a sport can help build your bond.
Improv Comedy or Stand-up
A comedy show could be just the place to get giggles out of your girlfriend. Take her to see a stand-up comedian or bring her to a comedy sketch show. At an improv, you and your girlfriend can become involved in the show by joining in with suggestions for the comedians. You can even volunteer to get on stage during one of the improv games. Funny is subjective, so consider your girlfriend's sense of humor, suggests dating advice columnist April Masini in the book, "Ideas For a Fun Date."
Local Events
Sometimes the best date activities are the ones happening in your backyard. Check local event listings online or in newspapers for seasonal events or shows in your area. Many cities across America have film festivals. Get a chance to see independent actors and directors in films, followed by a question and answer period after the screening. For a less cinematic and more theatrical production, see what shows are on at your local theater. Many cities have their version of Shakespeare in the Park or a similar, outdoor production. Take your girlfriend to a show she might enjoy at a local arts center or community college.
References
Writer Bio
Sarah Casimong is a Vancouver-based writer with a Bachelor's degree in journalism from Kwantlen Polytechnic University. She writes articles on relationships, entertainment and health. Her work can be found in the "Vancouver Observer", "Her Campus" and "Cave Magazine".
Photo Credits
Maridav/iStock/Getty Images