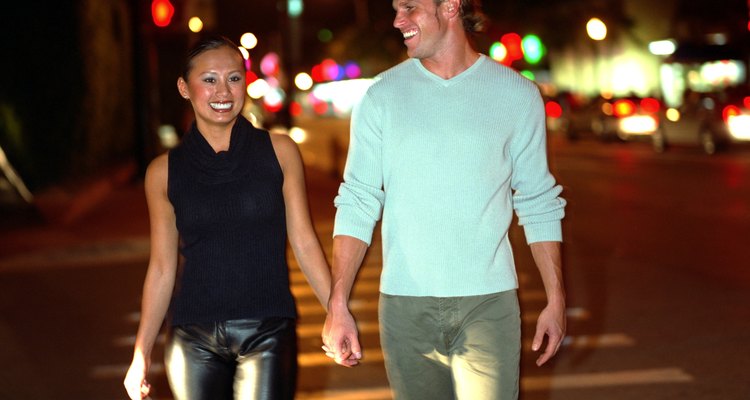 Creatas/Creatas/Getty Images
You are one of the lucky ones. You have an amazing girlfriend who makes you laugh and still gives you butterflies to be around. Falling in love with her was the easy part, but now you want to show her how much you care by giving her a night she won't ever forget. Dial up the romance and prepare to sweep the girl of your dreams off her feet with a few simple steps.
Cook
Get in the kitchen and show off your culinary skills suggests Redbook Magazine, a popular women's publication. Whether you are an aspiring chef or an amateur with the oven, taking the time to whip up a meal for your girlfriend will have her feeling loved. Focus on creating a meal you know you are comfortable making, and ask for advice or lessons from family and friends before the big date if you are feeling unsure. Select a nice wine to go with your creation and don't let your girlfriend lift a finger as you set out to serve her.
Dance
Pulling your girlfriend close and getting her on the dance floor is sure to get her pulse racing. After you finish your meal, head out on the town for a chance to shake your hips in unison. If you really want to step things up, Marie Claire magazine suggests bringing her to a dance class where you can learn some new moves together. Showing a willingness to learn new things on her behalf is sure to leave your girlfriend swooning.
Serenade
Muster up your musical talent and serenade your girlfriend with a song. If you don't have much talent to be found, don't worry, you can have fun with it too. Head to a local karaoke bar and select a song that holds meaning to you both, and then look her in the eye as you recite the lyrics. Whether you are destined for the American Idol finale or more likely to be one of the early rejects, showing a willingness to put yourself on display for her might be one of the more romantic things you could do.
Talk
Women crave communication, so make sure to spend some time simply talking to your girlfriend. Focus on discussing your shared dreams and hopes for the future while avoiding heavier subjects suggests sociologist Bradford Wilcox, director of the Marriage Project. Issues like finances and family conflicts can be reserved for another day. Keep the romantic vibe of your night going by instead gearing the topics of conversation towards your feelings for each other and the positive aspects of your relationship.
References
Writer Bio
Living in Alaska, Leah Campbell has traveled the world and written extensively on topics relating to infertility, dating, adoption and parenting. She recently released her first book, and holds a psychology degree (with an emphasis in child development and abnormal child psychology) from San Diego State University.
Photo Credits
Creatas/Creatas/Getty Images