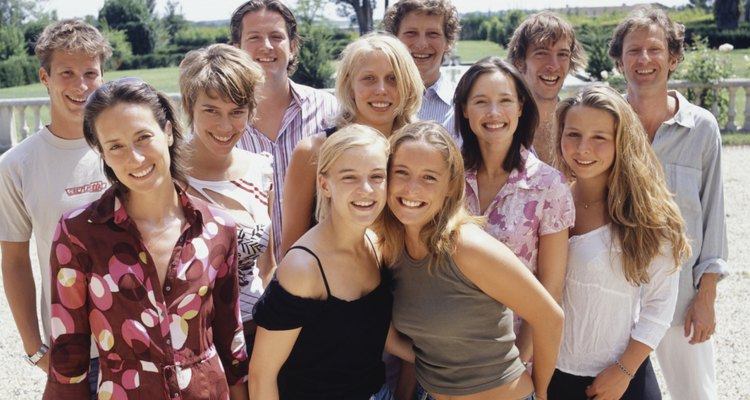 David De Lossy/Digital Vision/Getty Images
Reuniting with old friends can be a memorable experience. Strong bonds with friends enhance your life; research published in "Plos Medicine" found that people who maintain strong ties with family and friends lower their risk of dying prematurely by 50 percent. When planning a reunion with old friends, include activities that will strengthen your friendships and give you lasting memories of shared moments together. Planning ahead will also decrease your chances of conflict or things going wrong during the reunion.
Make Time to Catch Up
The first thing you will want to do is find out what is going on in each others' lives. Plan activities that will allow plenty of time to talk in a comfortable environment. Hold the initial reunion at a restaurant or coffee shop that has ample space for everyone to sit together. Make reservations in advance to ensure that your party has a comfortable table. If you prefer a more private environment, host a small reunion or dinner party in your home. Invite everyone by email or create a Facebook group where you can keep track of who will be attending and if they will be bringing something.
Spend Time Reminiscing About Old Times
One of the best things to do when reuniting with old friends is to relive fond memories you have together. Invite everyone to bring old pictures, videos, yearbooks or scrapbooks. Spend time looking through them and talking about the past. If you are hosting the reunion, you could ask everyone to send their pictures in advance and create a slideshow, using your group's favorite songs as accompanying music. Prepare foods or drinks that you enjoyed together in the past. These kinds of preparations will spark memories.
Visit Places of the Past
Another great way to relive memories is by visiting places where you spent time together in the past. Plan a tour of landmarks of your friendship, such as your old school, your parent's home or your favorite hangout. You can even arrange to host the reunion at one of these places. Take pictures of these places and create a before-and-after slideshow. If you are feeling adventurous, create a scavenger hunts with clues such as, "Place where we first became friends."
Plan to Stay in Touch
After spending a wonderful time with your old friends, everyone will want to stay in touch. Make plans to reunite again. Assign roles for organizing and communicating about the next reunion. Make sure everyone exchanges telephone numbers, email addresses and social networking accounts. Create a group on Facebook where everyone can stay in touch. This way, your friends can post pictures of what is going on in their lives and everyone can stay aware of each others' life events.
References
Writer Bio
Lauri Revilla has been writing articles on mental health, wellness, relationships and lifestyle for more than six years. She moved to San Antonio, Texas, from Mexico in 2006. She holds a Master of Science in Psychology from Our Lady of the Lake University.
Photo Credits
David De Lossy/Digital Vision/Getty Images