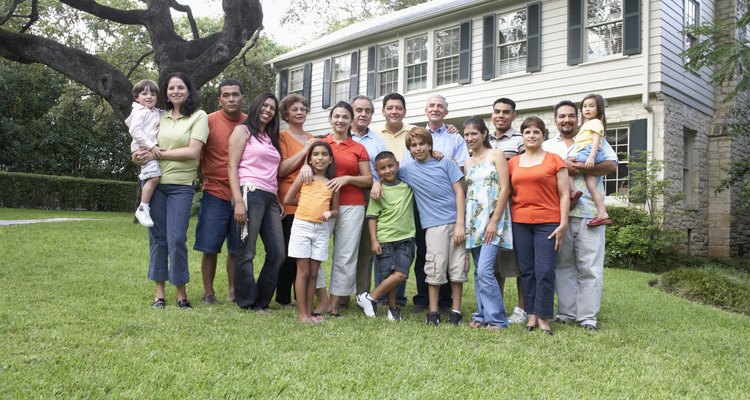 Jack Hollingsworth/Photodisc/Getty Images
Family reunions offer the perfect chance for cousins to reconnect or meet for the first time. Planned activities help you and your cousins learn more about one another and stay entertained while everyone else catches up. Many of the activities are suitable for all ages and promote the perpetuation of family stories and the chance to build bonds with distant relatives.
Put on a Family Skit
Encourage everyone to turn on the creativity by coming up with family-themed skits that are based on their own family memories or on stories that have been told by various family members -- even those from the distant past. It can be a lively way to share family experiences that some may know little about. Encourage each cousin to pair with older relatives for the skit-format retelling of family stories from long ago. After a run-through, gather all the other relatives as the audience.
Coordinate a Talent Show
A different performance option is a talent show for all of the attending cousins. Suggest that participants pair up with one another and either combine talents for a single performance or perform individually. Either way, participants and audience get to learn about the skills and talents of their relatives – possibly making for some pleasant surprises. Plus, a talent show doubles as entertainment for the whole crowd.
Create a Family Time Capsule
Learn more about your extended family while creating a keepsake for future reunions. This activity takes some advance planning. Ask all of the cousins to bring something to put into the time capsule. It might be something pertaining to the family as a whole or an item related to that person's hobbies or work. If the cousins are from different parts of the country, suggest that each person bring something representing his home state. Someone who lives in Florida might, for example, bring a seashell.
At the reunion, have each cousin add a little note or fill out a printed questionnaire about himself. Children can share their answers and tell each other about their items before putting them in the time capsule container. Hold onto the time capsule until you or another member of the family can take it to a future reunion for opening.
Hold a Family Trivia Challenge
Help the cousins learn more about family history by creating trivia-style games to play at the reunion. Sending out a questionnaire to all families before the reunion gives you plenty of information to use for the questions. Questions can be created from basic facts, stories from relatives or funny situations family members have encountered. Getting input from everyone helps you create a game that's more representative of the family as a whole.
Turn the information into trivia questions for the cousins. You can have the kids play individually or pair up with a cousin they don't know well. This option encourages them to get to know one another better. Keep score or just play for fun.
Make a Family Timeline
Create a concrete representation of the combined family history by making a timeline. Start with a long strip of paper. A roll of paper works well because you can unroll it as much as needed to fit everyone on the timeline.
Let the kids start by adding their own birthdays and other important events in their lives. Get the older relatives involved in helping the kids add other important dates to the family timeline. If you've done genealogy research, you may have some very old dates to add. When you're done, hang the timeline so everyone at the reunion can check out the family history.
References
Resources
Writer Bio
Shelley Frost writes professionally on a full-time basis, specializing in lifestyle, family, parenting and relationship topics. She holds an education degree and has extensive experience working with kids and parents.
Photo Credits
Jack Hollingsworth/Photodisc/Getty Images