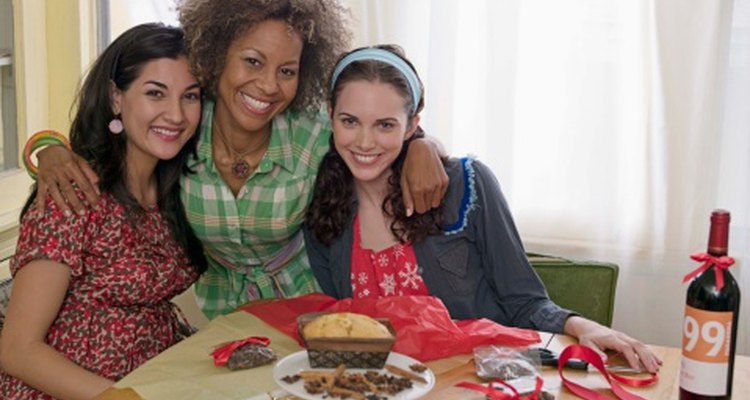 Jupiterimages/Brand X Pictures/Getty Images
A women's group is designed to be a supportive, educational and fun environment for women. Groups can be organized by age, cultural heritage, common interests, profession or no specific factor other than being female. Some groups focus on activities and others are merely for talking. Though conversation might flow without assistance or direction, organizers often find providing direction for discussion is helpful and keeps a group thriving. Having one person lead the discussion, especially when a group is new, helps members feel at ease and willing to share. If you're the one leading the group, having a few prepared questions in mind can help to restart a conversation that seems to have stalled. General questions where everyone shares something about themselves can help to bond a group of women who do not know each other well.
Family
If your discussion group is age-oriented, focus discussions on the most common issues women of that particular age deal with. For a group of stay at home mothers, discussion topics might include ways to keep children active, dealing with picky eating, balancing school and family time and managing sibling rivalry. If your group of women do not all have children, focus on other things they might have in common including hobbies, careers or other relationships. Women gathered in a knitting group or sewing circle might have older or grown children in addition to their shared interest. Discussion topics include hosting family get-togethers for the holidays, playing an important role in the lives of grandchildren and supporting adult children without interfering. Asking a new group of women about topics they would like to discuss can help you to plan future sessions and help the other participants to have a sense of ownership about the group. Be sure to leave time in any discussion for everyone to ask questions or give feedback.
Health
Talking about health concerns with other women can be educational and empowering. Though discussing health issues with your doctor is always best, you can take comfort in knowing other women share your struggles. This is especially true if you are dealing with a disease or medical condition such as cancer, fibromyalgia, arthritis or depression. Discussions should be uplifting and hopeful. Talk about home remedies, methods for relieving symptoms or diet and fitness improvements with your discussion group. Members can also share thoughts on treatment options, local doctors and other resources. Though some might think talking about an illness is depressing, it is surprising how inspired you can feel after sharing with people who are in the same boat as you.
Romantic Relationships
Women of all ages enjoy confiding in one another about romantic relationships. Many single women love to talk about dating and women in long-term relationships relieve stress by sharing frustrations and challenges. If your group includes a mix of older and younger women, create discussions in which the experienced women share opinions on building successful relationships. Ask more experienced women about ways that they keep romance alive, or how they balance career and personal relationships. If discussions in your group get particularly intense or personal be sure that members agree to keep any discussions within the group.
Entertainment
Sometimes the best fun discussions are about non-serious issues such as books, movies or celebrities. Women with an interest in popular culture might feel as if their partners, co-workers and relatives do not share their interests in TV shows or books. Focus discussions about books or movies around theme, characters and plot. Some examples might be mysteries, books written by women of color or books that feature a strong female character. Discussion groups gathered to talk about a particular person can focus on accomplishments or upcoming public appearances. Gathering a group of women with a shared interest often sparks deeper friendship.
References
Writer Bio
Kelly Brown began writing professionally in 2003. She has written for online publications and companies like Essential Health Australia, Beltex Whole Body Health, Advameg, Inc. and many others. Brown attended the College of Notre Dame of Maryland and Frostburg State University where she majored in communication arts and liberal studies.
Photo Credits
Jupiterimages/Brand X Pictures/Getty Images