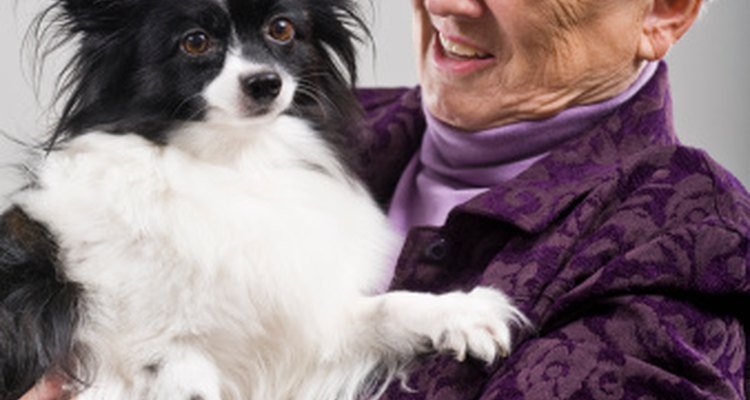 Apple Tree House/Lifesize/Getty Images
Even when elderly people are unable to leave their home, it's important that they stay busy, active and engaged with others. Fortunately, opportunities for interesting and enjoyable activities for homebound elderly are available with a little research and imagination. Inviting others to the home to join in on the activities gives seniors the much needed in-person socializing that makes being homebound easier and helps with loneliness.
Online Activities
A computer and Internet connection can help keep homebound seniors fully engaged, and even social. Through the Internet, elderly people can research favorite hobbies, chat with others, and stay informed. They can also play games, such as interactive Bingo, and do mental exercises to keep the mind sharp. With a webcam, microphone and a free Internet calling service, the homebound elderly can keep in touch with family members who live far away and see loved ones in real time on their computer screen. Homebound seniors can also find online work to supplement their income.
Volunteering
Homebound seniors who are in good health can help make a difference from the comfort of their own homes. Sewing enthusiasts can knit scarves, sweaters and winter hats for needy or homeless families. A woodworker can make simple furniture to furnish homeless shelters. Those who are able to cook can cook meals to be donated to people in need. Many shelters own vans that can pick up food donations. Turn the volunteering activity into social time by getting a group of people together to work on the projects. For example, friends or neighbors who know how to knit might also come over to knit the donated items and share in conversations.
Hobbies
Homebound seniors may need to rethink their hobbies. A book lover who can no longer get to the library can subscribe to an online book rental service or host a monthly book club in his home to share his love of literacy while socializing. For the gardener without access to an outdoor garden, indoor potted plants or a mini-garden on windowsills can be acceptable substitutes. Homebound seniors can also explore new hobbies, such as painting or flower arranging. To share hobbies, they can host a monthly board game or checkers tournament.
Fitness
Staying home doesn't have to mean staying out of shape. Homebound seniors can be as fit and healthy as possible in a variety of ways. Simple calf raises and stretching can be done while watching TV. A set of light hand weights can be used by some homebound seniors to maintain their upper-body strength, while light ankle weights can help strengthen their legs. They can also utilize senior aerobics, Pilates or yoga DVDs to aid in flexibility and bone strength. Seniors can find the motivation to do those workouts by hosting an exercise group at home with other seniors.
References
Resources
Writer Bio
Kate Bradley began writing professionally in 2007. She holds a Bachelor of Arts in international studies and a minor in German from Berry College in Rome, Ga; TEFL/TESOL certification from ITC International in Prague; and a Master of Arts in integrated global communication from Kennesaw State University in Kennesaw, Ga.
Photo Credits
Apple Tree House/Lifesize/Getty Images