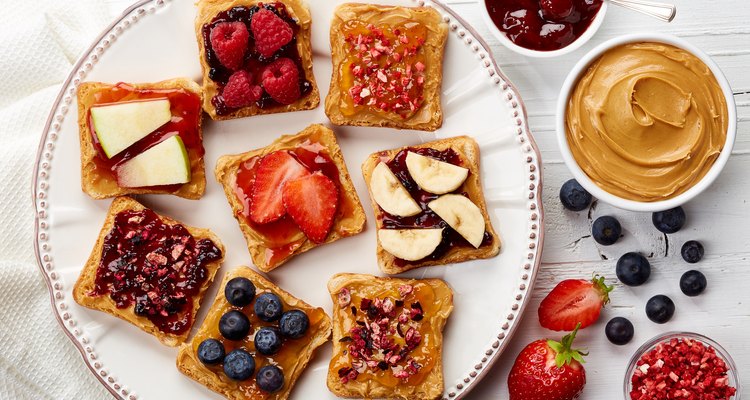 baibaz/iStock/GettyImages
Breakfast is a particularly important meal for 10-year-old children, who are still growing and need a substantial and healthy meal to get them started for the day. They also are beginning to grow out of the kinds of food that appeal to younger children. Be aware of your 10-year-old's tastes and make breakfast foods that fit into your schedule with some easy options that are both convenient and healthy.
Classic Breakfast
A classic morning meal of cereal or toast and fruit is an easy breakfast for a 10-year-old. Many cereals aimed at children are high in sugar and sodium, so look for cereals that have low sugar and sodium levels and a high percentage of whole grains -- but still appeal to your 10-year-old's tastes. Serve instant hot oatmeal with syrup, cinnamon or brown sugar. Or offer whole wheat toast for added nutritional value, and make it tastier by spreading on some peanut butter, honey or jam. Fruit, yogurt or a glass of milk will add another food group to your child's breakfast to make a nutritionally balanced meal.
Breakfast on the Go
On busy mornings, make breakfast with your 10-year-old that can be eaten on the way to school. Whole grain muffins or quick breads packed with fruit or vegetables are a healthy yet portable breakfast choice. Fruit and yogurt smoothies, which can be fortified with oatmeal for extra fiber and calories, are easy to put together and can be consumed in transit. In a pinch, give your child a healthy cereal bar or a bag full of granola to get started in the morning.
Weekend Breakfasts
On weekend mornings, when you have more time to cook a sit-down breakfast for your family, narrow down the options that may please your 10-year-old. Waffles, pancakes and french toast are favorites. Use store-bought mixes for convenience and encourage your 10-year-old to eat them with berries and syrup. Whip up a batch of scrambled eggs and serve them with bacon or sausage, or wrap them in a tortilla with cheese and beans to make a breakfast burrito.
Other Ideas
Although many 10-year-olds have more mature tastes than younger children, they may still enjoy food that is fun. Create a colorful and crunchy yogurt parfait by layering yogurt, berries and your child's favorite cereals in a tall parfait glass. Satisfy a craving for a savory breakfast by adding salsa, guacamole, cheese and broken tortilla chips to eggs to make a nacho omelet. Transform English muffins into mini breakfast pizzas by layering them with boiled eggs, tomatoes and fresh avocado. Breakfast sandwiches, made with egg, cheese, meats and a fun bread choice like bagels or croissants, will also appeal to many 10-year-olds.
References
Writer Bio
As a professional journalist since 1998, Lisbeth Booth has worked as a writer and an editor at several magazines. Her career has focused on music and film criticism but she has also written about lifestyle topics such as parenting and home design. She holds a Bachelor of Arts in English from the University of Calgary.