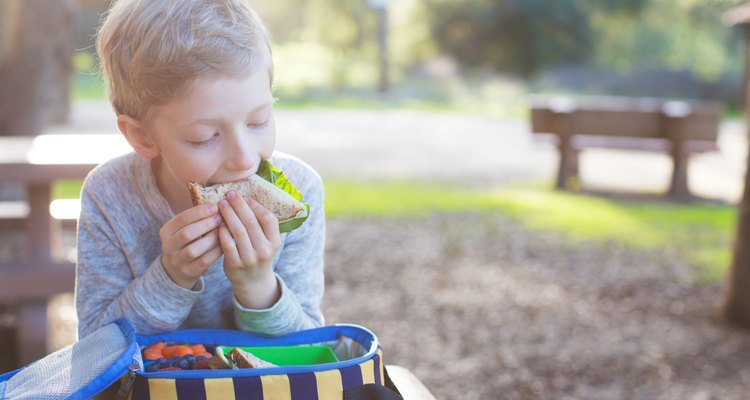 noblige/iStock/GettyImages
Six Ideas for Giving Your Kids' Lunch Boxes a Healthy Makeover
It's a challenge for working mothers to pack five days' worth of lunch boxes with food kids will actually eat, instead of trading away or ignoring entirely. Add the objective of making sure those foods are healthy and add up to make a balanced meal, and the seemingly endless task tests the ambitions of even the most perfectionist parents. With these six healthy school lunch ideas in your arsenal, you'll find it considerably simpler to send the children off with nutritious foods that give them plenty of energy to tackle the afternoon.
1. Hummus and Dippers
Individual containers of hummus, whether purchased or divvied up yourself, fit nicely into a child's lunch boxes. Thanks to its main ingredients, chickpeas and olive oil, hummus is packed with fiber, protein and good fats. For dipping, include whole-grain crackers or pita chips instead of white flour-based ones—or, even better, go for crunchy batons of raw carrot, cucumber, bell peppers or whole snap peas.
2. Healthier Chicken or Tuna Salad
Instead of mixing cooked chicken or canned tuna with mayonnaise, mix it with Greek yogurt and/or mashed avocado. You can also reduce the amount of mayo by cutting the amount in half and adding yogurt. Add vegetables to the salad for bulk, crunch and more nutrients. Green onions, celery, diced tomatoes and olives all work well in chicken and tuna salads, as do diced green apples and bell peppers. If you're using the salad as a sandwich filling, opt for fiber-rich whole grain varieties of bread, wraps, English muffins or pita pockets. Add a handful of raw baby spinach for a mega-boost of vitamins.
3. Popcorn Meets Trail Mix
Shop for trail mix fixings in the bulk bins of your grocery store, and the kids can make their own custom mixtures. Nuts, seeds, dried fruit and mini pretzels are trail mix staples, and while they do pack in plenty of beneficial nutrients, including lots of fiber, nuts and seeds are high in fats and dried fruits are high in sugar. Make a healthier trail mix by bulking up moderate servings of these items with air-popped popcorn, a fat-free whole grain. If you want to make it more of a treat, a few dark chocolate-covered nuts or raisins are a healthier option than M&Ms.
4. Frozen Smoothies
Smoothies made with whole fruits and vegetables, Greek yogurt and milk are many a mother's go-to healthy treat. Popular smoothie ingredients include bananas, which are high in vitamin C and potassium, antioxidant-rich berries, vitamin C-packed mangoes, and spinach, which has a mild enough flavor to be acceptable to even picky kids. A little peanut or almond butter adds healthy fats and fiber, and flaxseeds give smoothies a major nutritional boost. Make big batches of smoothies, portion them in small cups and keep them in the freezer. Pop one in a lunchbox in the morning and it should thaw by lunch time. A bonus: It acts as a cold pack, too.
5. Muesli Mixers
A healthier alternative to granola, museli is made up of unsweetened oats, whole grain cereals such as bran flakes, dried fruit, seeds and nuts. Make a custom museli mixture in a large jar to have on hand for lunchboxes as well as breakfasts. Include a scoop of museli in a container with some extra room, along with a carton of milk, yogurt, cottage cheese or apple sauce for pouring over it. Don't forget the spoon! Whole-grain old-fashioned oats, one of the main ingredients of museli, are an excellent source of fiber and antioxidants.
6. Apple Chips
Cover both sweet and crunchy in one lunchbox item that also happens to be healthy: homemade apple chips. Core and thinly slice apples, but leave the nutritious skin on. A mandolin or food processor makes short work of the preparation. Arrange the slices on a parchment paper-lined cookie sheet and bake them in a low oven, no higher than 200F, for 2 to 3 hours, flipping them over once. Sprinkle the raw apple slices with cinnamon or pumpkin pie spice if you wish. Some recipes call for sugar, but if your apples are sweet it shouldn't be necessary.
References
Writer Bio
Joanne Thomas has worked as a writer and editor for print and online publications since 2004. Her writing specialties include relationships, entertainment and food, and she has penned pieces about subjects from social media tools for Adobe to artists' biographies for StubHub. Thomas has also written for such names as Disney, Hyundai, Michelob and USA Today, among others. She resides in California and holds a bachelor's degree in politics from the University of Bristol, U.K.