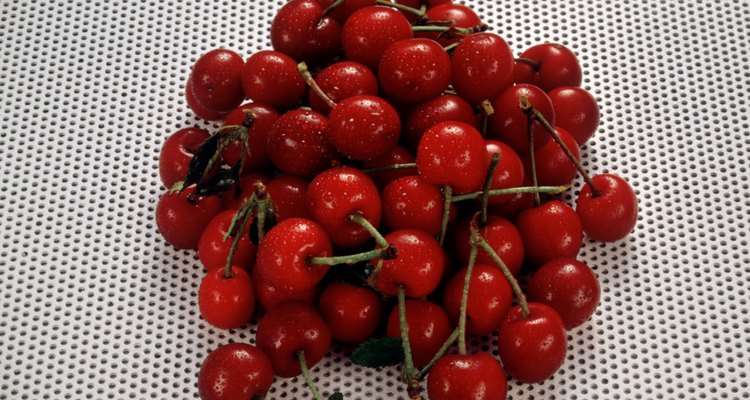 Eising/Photodisc/Getty Images
Thawing frozen cherries puts you one step ahead of the game, since thawed cherries are more versatile than frozen ones. From puddings to jams, thawed cherries are tasty tidbits for many recipes. The secret is to drain the cherries in a colander before adding them to the recipe. That way, you get rid of any excess water from ice crystals. Otherwise, your recipes may come out tasting a little watered down.
Tasty Puddings
Thawed frozen cherries add a tasty burst of flavor to almost any pudding. Go for a tangy treat by stirring the cherries into lemon or lime pudding. Mix the cherries into vanilla or chocolate pudding for a more traditional flavor. Drop the cherries into the bottom of banana pudding to create a dessert with a sweet surprise.
Tempting Cakes
Tossing thawed cherries into cake mix instantly turns a plain cake into something special. Stir the cherries into vanilla cake and top with vanilla frosting for a classic flavor. Drop the cherries into a milk chocolate cake and top with dark chocolate frosting to create an indulgent dessert. Turn a simple sweet into a multifruit treat by sprinkling cherries over strawberry cake and topping it with lemon frosting.
Scrumptious Jams
Preserve your thawed cherries for later use by turning them into jam. Simmer the chopped cherries with lemon juice and sugar for a simple jam. Lightly boil the cherries with sugar and cranberries for a tangy version. Try a classic jam by cooking the cherries with sugar and pectin.
Savory Pies
Thawed or frozen, cherries are a natural match filling for pies. Sprinkle the cherries with sugar and bake in a pie crust for a simple sweet. Make a cobbler-style pie by covering a thawed cherry and sugar mixture with drops of biscuit dough. Mix the cherries with apple pie filling and bake in a premade pie crust for a quick dessert.
Yummy Candies
Stuffing and coating thawed cherries is a quick way to turn the pitted fruit into a delectable dessert. Stuff each cherry with finely chopped almonds for a delicate flavor. Dip each cherry in melted dark chocolate chips and place them on wax paper to dry for a rich treat. You can also stuff each cherry with a milk chocolate chip and dip it in melted caramel chips for a fancy sweet.
Satisfying Smoothies
Healthy or naughty, you can make many smoothies with frozen cherries that have thawed. Blend the cherries with banana, ice and orange juice for a breakfast smoothie. Combine thawed cherries, chocolate ice cream and cooled coffee for a mocha-flavored dessert. Mix cherries, low-fat yogurt, ice and raspberries for a tart treat.
References
Writer Bio
A writer since 2000, Aya Pauli has covered a variety of topics including food, fashion, beauty, health, parenting, education, decor and crafts. Her award-winning recipes have been published in food magazines such as "Taste of Home," and she is also the author of a salad cookbook. Pauli's craft projects appear in major manufacturer websites, including Dow Styrofoam. She also holds a CDA in early childhood education and works as a preschool teacher in Wyoming.
Photo Credits
Eising/Photodisc/Getty Images