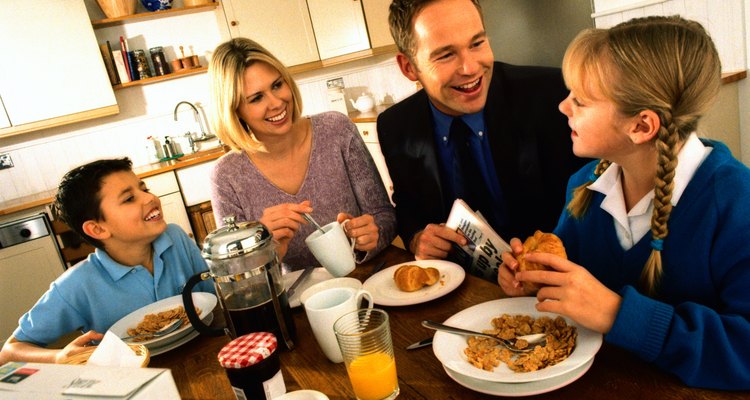 Dave J. Anthony/Photodisc/Getty Images
While your kids may think differently, eating breakfast is more important than sleeping in the morning of a test. According to the U.S. Department of Agriculture Food and Nutrition Service, a shot of nutrition and energy after a night without food changes the way children think and act in a learning environment. In fact, eating breakfast improves the particular types of skills that students use in taking tests. Help your children fix a balanced meal before exams and every morning for long-term health and academic benefits.
Be There for the Test
If your child frequently misses school, you can improve attendance -- and make sure he'll be there on test day -- by serving breakfast regularly. Allow extra time on important days to plan a full breakfast with representatives of the protein, grain, fruit, vegetable and dairy food groups. Almond or peanut butter on toast, oatmeal, raisins, tomato juice and low-fat milk hit every group for a wide range of vitamins and minerals.
Feel Good in the Morning
When children skip breakfast, they don't replenish their blood sugar, which affects their mental abilities and outlooks. They may feel anxious, hungry, sweaty or shaky, and respond with mental negativity or irritability. Elevate moods with favorite breakfast foods on test morning. Whole-grain waffles with fruit and yogurt or scrambled eggs with cheese and a few tablespoons of creamy bacon ranch dressing provide the protein, calcium, vitamins and filling fiber that researchers find optimal for student nutrition. A 2005 study of school-age children and adolescents published in the Journal of the American Dietetic Association linked this type of nutrition with a better mood and readiness for academic work.
Remember What You've Learned
Eating right every morning enhances young students' cognitive skills, and moms can make breakfast accessible on any day by keeping a stock of low-sugar, high-fiber cereals on hand. Many fortified cereals have high vitamin and mineral contents and fewer calories, contributing to growth and development as well as weight control. Use the label facts to choose a cereal of about 100 calories per serving, and serve it with 1 percent or non-fat milk. Add nuts and fruit for variety.
Test Your Best
A muffin or a bagel is better than no breakfast, but kids who eat a complete meal instead may do better on tests. The Food and Nutrition Action Center notes that missing breakfast can cause visual problems and slow memory function, while eating a full breakfast leads to fewer errors and quicker figuring in number-related tests. If your child reaches for muffins on her way out the door, add a fruit cup, single-serving yogurt and a handful of almonds to the to-go breakfast bag.
References
Writer Bio
Nancy Clarke began writing in 1988 after achieving her Bachelor of Arts in English and has edited books on medicine, diet, senior care and other health topics. Her related affiliations include work for the American Medical Association and Oregon Health Plan.
Photo Credits
Dave J. Anthony/Photodisc/Getty Images